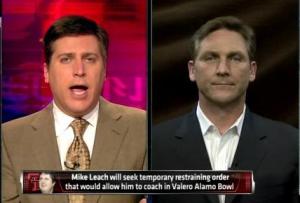 There are new developments in the story of a top NCAA coach who allegedly locked a player in a closet as punishment for not participating in practice while injured.
Now Texas Tech head coach Mike Leach is responding, through his lawyer, as well as appealing his suspension. And the player's father, ESPN college football analyst Craig James, has responded publicly – on ESPN.
Leach's attorney has filed a motion for a temporary restraining order, which would allow Leach to coach his team's January 2 Alamo Bowl game. The results are likely to be determined today. Also, "Leach and his attorneys anticipate Texas Tech will try to fire the coach in the near future, multiple sources tell ESPN's Joe Schad."
Meanwhile Craig James is commenting publicly about what happened to his son, Adam James. During yesterday's 6pmET SportsCenter, he was interviewed by Steve Levy in a very new role – father. He said after his son's concussion, "it's the actions that Mike took following that against Adam that are really in question here."
Calling what happened "not common sense" and "unheard of," James was very clear about where he stood. When asked by Levy his son's past relationship with his coach, James instead said his son loves his team and his school – while making no comment about Leach.
Levy asked James about his portrayal by Leach's attorney as a "helicopter dad" (someone who is 'hovering around') and that his son was a "disgruntled" player. "It is absolutely not true," said James. "This is all about Adam sustaining a concussion and the actions that took place against Adam after the concussion was diagnosed."
The story has already broken mainstream – with stories on Fox News and CNN. As the flare up between a media member father and a high profile coach continues, expect even broader coverage.
Here's the interview last night:


—–
» Follow Steve Krakauer on Twitter
Have a tip we should know? tips@mediaite.com