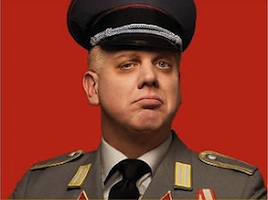 At the end of every year, Gallup asks Americans which men and women they most admire. Today, they released their results, a number of which are surprising. Gallup, and many news organizations, give top billing to the fact that Secretary of State Hillary Clinton narrowly beat Sarah Palin as the Most Admired Woman.
President Barack Obama easily won the Most Admired Man title, with 30% of mentions. But there's a new and noteworthy addition to the list. You guessed it: Glenn Beck, who came in fourth place.
The Most Admired Man results were as follows:
1. Barack Obama: 30%
2. George W. Bush: 4%
3. Nelson Mandela: 3%
4. Glenn Beck: 2%
5. Pope Benedict XVI: 2%
6. Rev. Billy Graham: 2%
7. Bill Gates: 2%
8. John McCain: 1%
9. George H.W. Bush: 1%
10. (tie) Bill Clinton: 1%
10. (tie) Tiger Woods: 1%
Since Bill Clinton and Tiger Woods (resist obvious joke…) were both listed as tied for tenth place, and thereby separated from the other 1% winners, it's fair to assume that Glenn Beck got a solid fourth place with the 'highest' of the 2% shares. This puts him within spitting distance of #3 Nelson Mandela, who, you know, brought down apartheid and everything.
Gallup's fascinating further breakdown of the numbers shows that among independents, Glenn Beck was the second-most admired man, behind only Obama. (Though the gap is wide: 3% versus 25%.) Among Republicans, he slides back to fifth place with three percent of total mentions, behind George W. Bush (11%), Obama (7%), Pope Benedict XVI (4%), and Billy Graham (4%).
For a topic this broad and subjective, it's debatable how much stock one should put into a poll of 1,025 American adults conducted from December 11th to December 13th, given the vagaries of the news cycle. That Tiger Woods' wife Elin Nordegren Woods tied for ninth place among women (with German chancellor Angela Merkel) shows how subject such a poll is to current events: it's hard to imagine her placing at any other time.
Still, Beck's strong showing is testament to what a transformative year 2009 has been for him. He began the year a virtual unknown, and ended it a ratings juggernaut, a Glee punchline, and the leader of a movement.
Here's the full Gallup poll, including their Most Admired Woman list and a deeper look at their methodology.
Have a tip we should know? tips@mediaite.com