Criminal Profiler On MSNBC Compares Colorado Massacre To 'How A Girl Plans For Her Wedding'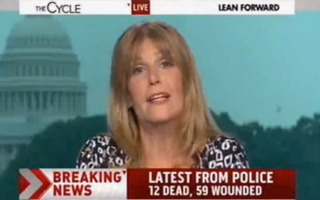 On MSNBC's The Cycle, criminal profiler Pat Brown compared the preparation that goes into an atrocity like the mass murder in Colorado early Friday morning to how a girl plans for her wedding. She also compared mass killers like the Dark Knight shooter to an actor walking out on stage. Brown had appeared on CNN earlier on Friday and linked the violence in Colorado to the excessive playing of video games.

RELATED: CNN Guest Rushes To Blame Video Games For CO Shooting: 'Teenaged Psychopaths Get Inspired'
Brown said that she believed that killers like Norway's Anders Brevik, Ft. Hood shooter Maj. Malik Hassan and Oklahoma bomber Timothy McVeigh were psychopathic and had no political motives to their actions.
"Oklahoma City bombing – I mean, really was it against the government or really was it someone who just wanted to do something amazing," asked Brown. "The Ft. Hood shooter – which some people think was a terrorist attack. I do not. I think he was just some midlife crisis guy who wanted to say 'you've ignored me all these years. I'm going to go out and shoot all my mates. Oh, yeah, but 'Allahu Akbar.' Ha. I'm really a terrorist."
When Krystal Ball asked about the amount of attention an aspiring mass killer pays to those who have already committed mass killings in the past, Brown compared the level of preparation that goes into planning an attack of the magnitude of the Colorado shooting to a wedding.
She said that aspiring mass murders spend a lot of time fantasizing about the event and planning out the particulars. "You know what it is – it's kind of a strange comparison – but it's like a wedding," said Brown.
"You know how a girl plans for her wedding," asked Brown. "Oh, my God. All year long, she looks at all the wedding books. She gets all the clothing done. She looks at all the venues she can go to – how she walks down the aisle. She probably goes and watches all those wedding programs on television. So, she really fantasizes about this until the big day comes. This is all this guy is doing. It's his own little wedding with the world.
Continuing with the analogy, Ball asked Brown for her impression of how calm the alleged shooter, James Holmes, was reported to be and asked if it is common for a shooter to be that calm whereas a bride tends not to be calm.
"Theoretically, most brides are not psychopaths, but I'll bettcha your psychopathic brides can walk down the aisle just like this," said Brown mimicking a thousand yard stare and laughing. She also compared the killer to an actor walking out on stage.
Watch the segment below via MSNBC:
> >Follow Noah Rothman (@Noah_C_Rothman) on Twitter
Have a tip we should know? tips@mediaite.com