Critics Call Out Fox's Ainsley Earhart For Saying News Should Be Reported the Way Trump Wants: 'N-U-T-S'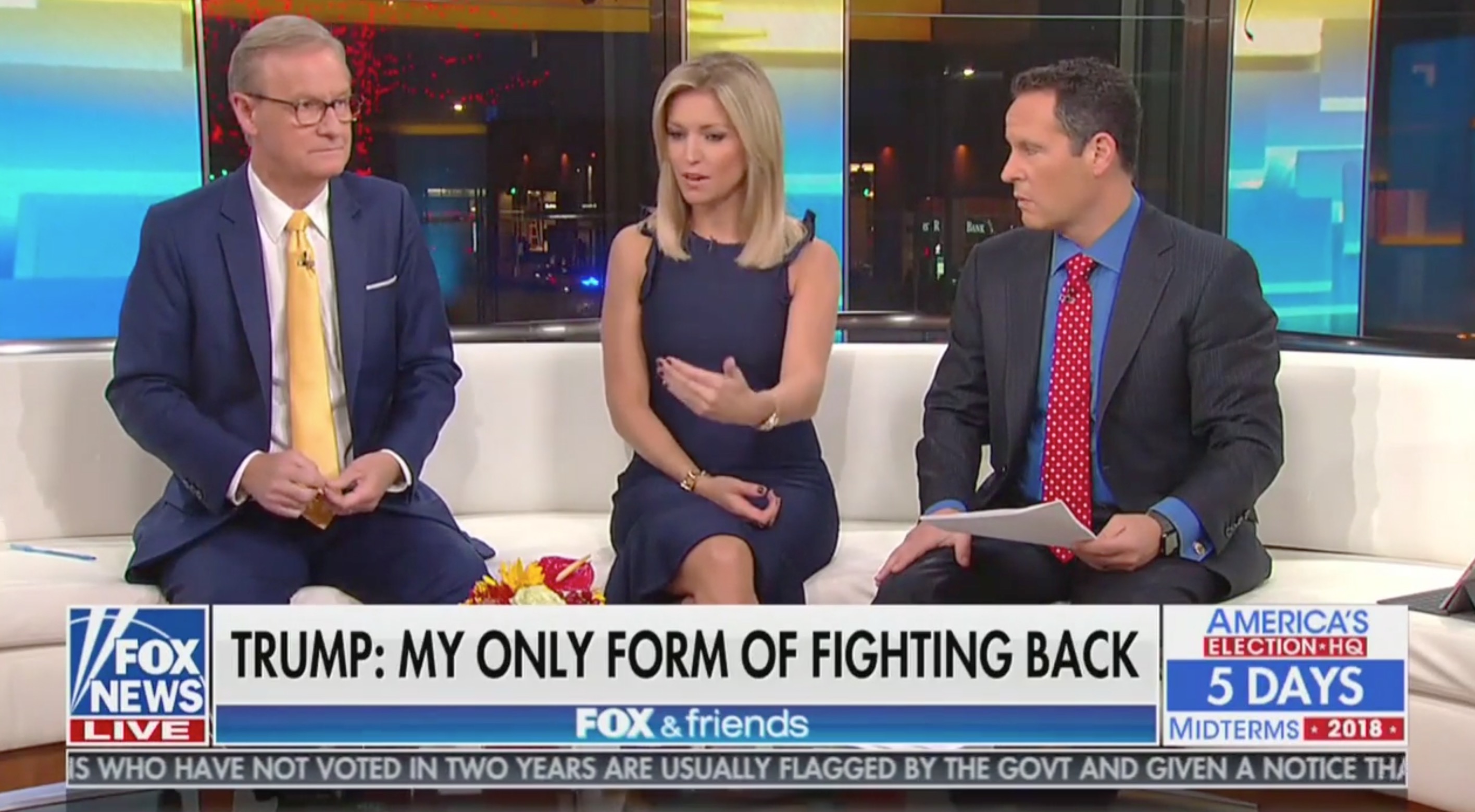 Fox & Friends' Ainsley Earhart got panned by critics on Thursday for gobbling up President Donald Trump's defense of his anti-media rhetoric without any kind of pushback.
The Fox News morning show covered Trump's interview with Axios — in which he justified calling the press the "enemy of the people" because "it's my only form of fighting back."
Rather than making a note of how Trump's rhetoric connects to the recent bomb threats to CNN and the president's various critics, Earhart suggested that if the media doesn't want to be attacked anymore, they should report on the president exactly as he demands to be covered.
"He's saying if you don't want to be called the enemy, then get the story right, be accurate and report the story the way I want it reported," Earhardt said.
"I think that's a good point," Brian Kilmeade concurred.
Earhardt taking Trump's side is hardly surprising by now, even though several of her Fox News colleagues have spoken against Trump's regular attacks on the media. Even Fox & Friends itself came down on the president for his constant references to the press as "enemy of the state."
But Earhart's comment was a bridge too far for many media observers. Here is a sampling of the reaction:
N-U-T-S https://t.co/sKhAwUCDmW

— rolandsmartin (@rolandsmartin) November 1, 2018
They defend Trump calling the media the enemy of the people: "He wouldn't call the media the enemy if they reported the news the way he wanted them to report it."@foxandfriends may actually be the most pathetic, the most embarrassing talk show in the entire history of TV. https://t.co/GKGjkMrEd7

— Joe Walsh (@WalshFreedom) November 1, 2018
That about sums it up. Sounds like that's the real path to becoming the enemy of the people in a democratic society with a free and thinking press. https://t.co/FxBGBanbtT

— Mark Hertling (@MarkHertling) November 1, 2018
I think I speak for all fellow @USCAnnenberg alums when I say @ainsleyearhardt is an embarrassment to the university. https://t.co/6FSdRydZUT

— Michael Ausiello (@MichaelAusiello) November 1, 2018
Yeah guys, Trump just wants to dictate how stories are reported, which stories are reported, when stories are reported — they don't want to do it, so THEY'RE THE PROBLEM https://t.co/oaLFSDf72m

— David Pakman (@dpakman) November 1, 2018
Earhardt is correct that Trump will only stop calling journalists the "enemy of the people" if they report on his administration the way he wants it reported. https://t.co/EzXnoddnNM

That's generally what Fox & Friends does, which is why he's a big fan of the show. https://t.co/LGr6Re2VyR

— Matthew Gertz (@MattGertz) November 1, 2018
Get the story right? No prob. Be accurate? You got it. Report it how I want it reported??

Aw, hell, no. I wouldn't agree to that if my own boss requested it. You want your bias objected, write it yourself. https://t.co/c7OYCHMYY4

— Amber Hunt (@ReporterAmber) November 1, 2018
Quite literally the opposite of why the press was founded in the first place https://t.co/X6KLeiQQtQ

— Jason Rubin (@jasonrubin91) November 1, 2018
.@ainsleyearhardt actually went there and said the press should report the news the way the President wants it reported if they don't want to be called the enemy of the people.

What a pathetic disgrace to journalism.https://t.co/2pPIq0hLQ1

— Bradley P. Moss (@BradMossEsq) November 1, 2018
[Image via screengrab]
— —
>> Follow Ken Meyer (@KenMeyer91) on Twitter
Have a tip we should know? tips@mediaite.com