Daily Caller Wonders if Chuck Todd Took a Shot at Sarah Palin; No, He Didn't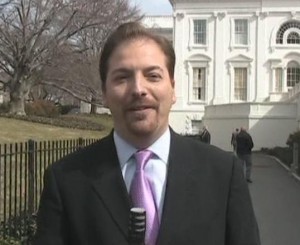 On Tuesday's Daily Rundown, co-anchor Chuck Todd delivered an innocuous "On This Date" segment about the 1999 swearing in of Jesse Ventura (I-Mn) as Governor, but the 30-second spot did not escape the notice of The Daily Caller's Jeff Poor, who wondered if there was a shot at former Alaska Governor Sarah Palin embedded in the clip.
It's a fair question, especially if you're inclined to be defensive about Palin, but Todd's remark was actually fairly broad. Even so, rather than wonder, I actually asked Chuck about it.

After setting up the clip, here's what Jeff Poor had to say about the supposed possible shot at Palin:
However, Todd also made a point to mention that Ventura served his entire term.

"The Reform Party candidate would go on to serve only one term in office but he did serve his entire four years," he added. "Not all governors do that."

It's not completely obvious who Todd was referring to when he said "not all governors," but it's possible he could have been referring to Palin – a frequent target of MSNBC's on-air talent. You be the judge.
Here's the clip, from The Daily Rundown:
Rather than simply letting "you be the judge," I asked Todd about the remark, and he told me that the remark was directed at former Governor (and current "The Body) Ventura, and no one else.
Palin's fans could be forgiven for taking offense, though. The Tea Party ranks are famously made up of newly-energized voters who might not have previously followed politics as closely as Chuck Todd does. When they hear "governor who resigned," they might only think of Palin, but even recent political history is dotted with lava-hot resignations from the likes of Rod Blagojevich (D-Il), Eliot Spitzer (D-NY), Jim McGreevey (D-NJ), and Mark Sanford (R-SC)…wait, scratch that last one. Sanford resigned as Republican Governors Association chair, but incredibly did finish his term.
While Palin may have a cable news career in common with Spitzer, she has one major difference with her fellow members of the Society of Gubernatorial Resignees: none of them thinks they can now become President. (Well, maybe Blagojevich. Who knows what that guy thinks?)
It's little wonder, then, that Palin's fans would be touchy about the subject. While Palin has a near-lock on the Republican Party's presidential nomination for 2012, the fact that she quit her governorship could become her greatest obstacle in a general election. At the end of the day, even Americans who agree that she was treated unfairly aren't likely to vote for someone who refused to stay and fight. That doesn't mean she can't possibly win, but it's going to take some miracle media mojo to get people over that resignation hump. That's not a "shot" at Palin, it's just a fact.
Have a tip we should know? tips@mediaite.com