Daily Show's Hilarious Confrontation With Anti-Pot Activist Who Just Won't Let Old People Smoke Weed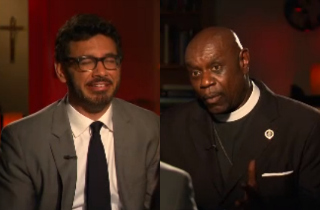 Last night's Daily Show featured a hilarious dressing-down of an anti-pot activist who refuses to believe old, suffering adults should be able to use medical marijuana. Correspondent Al Madrigal took to an old folks' home (or "old tokes home") to investigate the sinister effects of marijuana on old people who sit around all day watching television and nodding off.
"Marijuana advocate Robert Platshorn is on a mission to convince our legislators to legalize medicinal pot, and he's starting with the most impressionable among us: our bubbies," began Madrigal's mock-serious narration.
Madrigal then spoke with famed anti-pot activist Bishop Ron Allen, who calls pot "the slippery slope to hell."
"What about those who say if you make it to 90, who gives a crap what you do? You can shoot heroin into your nut sacks," Madrigal grilled Allen.
"I will give a care what I do if I make it to 90," the bishop responded. "I certainly don't want to get stoned and sit around the home doing nothing."
Aaaaand… perfect moment for Madrigal to hilariously agree: "Yes, our elderly are completely unprepared for how marijuana will affect their couch-bound, Judge Judy watching schedule."
Despite marijuana's known ability to reduce pain for a variety of diseases that affect a large portion of the elderly population, the bishop, like many anti-pot crusaders, chooses to focus on the negatives: "Marijuana slows down your motor skills. You can't drive correctly. It slurs your speech."
So… the same effects as being an old person?
And while Allen-approved prescription meds for old people can cause everything under the sun — from diarrhea to erectile dysfunction to death — weed, on the other hand, "can lead to such problems as early-onset hunger syndrome and chronic keyboarding."
Madrigal took to the old-folks home lobby to see if any octogenarians were now convinced to choom a doobie or two on occasion. The results were, naturally, hilarious.
Watch below, via Comedy Central:
— —
>> Follow Andrew Kirell (@AndrewKirell) on Twitter
Have a tip we should know? tips@mediaite.com