Eliot Spitzer: After Resigning From Office Weiner Should Take Time To Reflect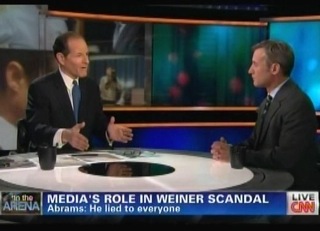 Anthony Weiner has finally stepped down from the only career that he has had in several decades, leaving many to wonder what he will now do to fill his time and support his new family. Eliot Spitzer, who knows a thing or two about rebounding after a sex scandal, weighed in on the matter tonight, and along with Mediaite founder Dan Abrams, concluded that the scandal could not keep him away from the political scene forever.
Spitzer opened In the Arena today noting that he had received criticism for commenting on the Weiner story because of the scandal that led to his resignation from public office, adding that "maybe because I've been on both sides of the story, I'm well-suited to comment." Then turning to Abrams, he wondered whether there was "too much joy" on the media's part as the chronicled his demise. Abrams refused to characterize it as "glee" the way Spitzer did later, and added that much of the media's impulse to cover the story wall-to-wall was in part due to it's "made for media" nature, but also because Weiner "did 20-something media interviews and then lied to everyone," including his constituents and his superiors.
Despite the debacle that was his cover-up, Abrams argued that he "will be in New York City politics within three years," as the public is increasingly prone to forgiving the faults of public figures. Spitzer raised his eyebrow slightly, but Abrams noted that plenty of fallen media figures– present company included– had rehabilitated their images swiftly. "We've gotten to a point where people are more willing to forgive," Abrams argued, suggesting that Weiner stay out of politics for a few months, asking Spitzer what he did for the first six months after his own resignation. Spitzer responded that he had spent the time reflecting on his errors and figuring out how to correct them, but added that "it's a personal strategy on so many levels."
The segment via CNN below:

Have a tip we should know? tips@mediaite.com