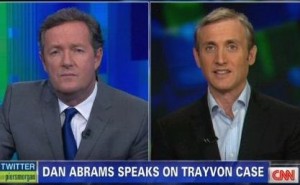 Before having a pretty contentious interview with Touré later tonight, Piers Morgan hit on the legal aspects of the Trayvon Martin case, including the controversial "stand your ground" law, with Mediaite founder and ABC legal analyst Dan Abrams. Morgan asked if based on all the evidence presented so far, if the police should have arrested Zimmerman that night. Abrams touched upon the crucial point that no one quite knows "exactly what happened" and the most important thing right now is that "the authorities ought to take their time."
RELATED: Tamron Hall And Touré Agree: 'Dangerous for America' To Have Trial Of George Zimmerman In Media
However, he did say that he expects an indictment to emerge out of this case, and the publicity of the case has resulted in more information coming to light. Abrams said that the special prosecutor intends to proceed with or without a grand jury, but issued caution for everyone breathing fire on this case.
"I fully believe that we should let the system work and not call for an arrest today, and see what happens, because I expect to see this happening there in the very near future."
Morgan played a clip of his interview with George Zimmerman's brother, specifically the portion where he asks about Zimmerman's injuries, and asked Abrams about the curious video suggesting that no such injuries were on his body following the shooting. Abrams said he didn't want to comment too much on it, but said that he's spoken to some doctors who've explained that there should be some visible signs of a broken nose. But Abrams touched on Zimmerman's brother's claim that Martin "snuck up on him." He admitted that it would be very hard for Zimmerman's legal team to make that case, given all the evidence that has emerged so far suggesting otherwise.
RELATED: Former George Zimmerman Co-Worker Describes Him As 'Jekyll And Hyde': 'When The Dude Snapped, He Snapped'
Another thing that didn't make sense to Abrams is why Martin would suddenly want to kill Zimmerman. But he eventually brought the conversation back to the "stand your ground" law, which he acknowledges that a lot of people are not exactly eager to talk about, but emphasized its importance in the case. Whereas in other situations, there might have to be evidence that Zimmerman retreated, the law makes it unnecessary in this case.
Watch the video below, courtesy of CNN:

Have a tip we should know? tips@mediaite.com
Josh Feldman - Senior Editor