Dana Loesch in Tense Debate with Eliot Spitzer and Rep. Jackie Speier on Planned Parenthood Funds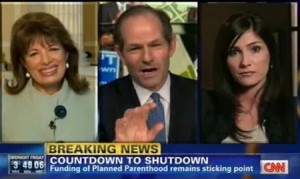 As the Shutdown Showdown grew nearer Friday night, CNN's Eliot Spitzer hosted an intense segment with Rep. Jackie Speier (D-CA12) and Big Journalism's Dana Loesch, in which the trio discussed the Planned Parenthood budget rider, and its relationship to the Hyde Amendment. While the dustup made for great TV, it was also an excellent case study on the relative merits of advocacy and expertise, as Speier's and Loesch's escalating confrontation is handily settled by Spitzer's legal smarts.

Speier, you may recall, delivered a wrenching account of her own abortion on the floor of the House in February, and is a passionate defender of abortion rights, and women's health. Loesch is the Editor in Chief of Andrew Breitbart's Big Journalism, and no stranger to fighting the Tea Party fight. The combination of two passionate advocates produced sparks, with Loesch in a particularly strident mood, but just as the debate over funding Planned Parenthood reached a fever pitch, Spitzer stepped in with a devastating point.
Loesch argued that there's no way to tell which funds were being used by Planned Parenthood for abortions, and therefore no way to fund them while obeying the Hyde Amendment, which prohibits the use of federal funds for abortions. Spitzer responded that, under that logic, you would have to cut off funding to most of the hospitals in the country.
Liberal media watchdog Media Matters has been loudly critical of CNN's decision to hire Loesch, but based on this appearance, it's tough not to defend that call. Loesch's increasingly strident presence on the network makes for unquestionably entertaining, interesting TV, and as you can see from Spitzer's follow-up, in which he asks Loesch for insight into Tea Party legislative strategy, she is perfectly equipped to act as that movement's spokesperson:
Update: Dana Loesch responds to Spitzer, Speier, and Mediaite at Big Journalism, and offers an argument that didn't appear in the segment we presented. She also seems to be saying that there were instances of Rep. Speier interrupting her that were not shown:
Earlier tonight I appeared on "In the Arena" with Eliot Spitzer. Neither Spitzer or Rep. Jackie Speier were fully forthcoming in the facts about federal funding for abortions. I also wish that the times Rep. Speier repeatedly interrupted me were shown as well in the original take, finally prompting my response in the video below, but content must adhere to a clock during broadcast.
Have a tip we should know? tips@mediaite.com