David Gregory to Obama Chief of Staff: Is President 'Going Small' on 2014 Agenda?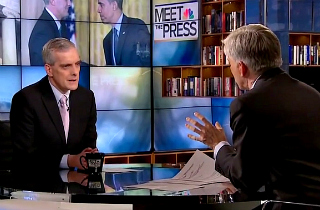 Meet the Press' David Gregory asked White House Chief of Staff Denis McDonough Sunday morning if President Barack Obama's recent State of the Union address was evidence of curtailed ambitions and diminished expectations on the part of the Obama administration.
"To a lot of people it seemed like a smaller State of the Union," Gregory said, noting previous speeches addressed gun control, climate change and health care. "Is the president going small?"
"If you think about the things he laid out on the table this week, a $10.10 minimum wage, that's not going to be small for the hundreds of thousands of people who benefit from that," McDonough said, going on to list efforts on long term unemployment and ConnectED.
"I'm not saying any of these issues are unimportant," Gregory said. "But this is a president who had big ambition. After a very tough year, do you concede that he looks at Washington and says, 'Maybe I have to be a little less ambitious about what we can actually achieve?'"
"Here is what I concede: I concede that the president doesn't spend a lot of time looking at Washington," McDonough replied. "He spends a lot of time looking at what families across the country wants. They want clear, discernable, concrete actions that he can take so that he can move this thing forward—not wait for Congress, which, as you've said many times on this show, and in fact during the course of this week as you've commented on his speech, has not lived up to its past experience, and has in fact been quite slow."
Watch the full clip below, via NBC News:
[Image via screengrab]
——
>> Follow Evan McMurry (@evanmcmurry) on Twitter
Have a tip we should know? tips@mediaite.com