David Letterman To Brian Williams: 'What More Do We Want [Obama] To Do For Us, Honest To God?'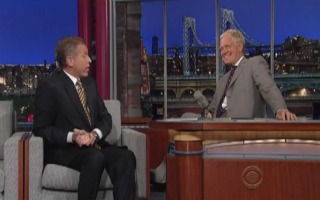 NBC News anchor Brian Williams appeared on CBS' The Late Show with David Letterman on Tuesday night. Letterman discussed Williams's special on Rock Center about the killing of Osama bin Laden and became agitated when describing President Barack Obama's successes as compared to what he sees as President George W. Bush's failures in the War on Terror. "What more do we want this man to do for us, honest to god," asked Letterman.

RELATED: Brian Williams Feels 'Unmitigated Joy' Watching Sex Scenes (Featuring His Daughter) In Girls
He was first asked about CBS Evening News anchor Scott Pelley, who Williams described as being suspiciously "sunny" in his disposition. "Life's too short, if you feel like something a dog left on the sidewalk, say it," said Williams.
Williams had great praise for the CBS and ABC News teams. Letterman, in turn, complimented Williams on his Rock Center special on the assassination of the Osama bin Laden.
Letterman drew applause from the audience when he said that he felt Obama had demonstrated "great courage and great intelligence" when he "gunned down" bin Laden and asked "what more do you want to lead your country?"
Williams said that most uniformed military personnel would tell him under the Bush administration that bin Laden himself was not a priority. "What you now find out, interviewing everyone in that picture, that of course it was a priority but it was a renewed priority when President Obama came into office," said Williams. "He inherited a different set of circumstances – combat was winding down, arguably, at least the first if not the second."
Letterman said that circumstances in Obama's first term were worse than those for Bush, so "why didn't he go after him?"
Williams outlines just how low the chances were that Obama could have been able to corner bin Laden where he was in Pakistan.
Letterman questioned why Obama should not be able to use the killing of bin Laden as a campaign tool when he believed Bush's team would have done the same thing in that position. "Remember the Iraq war, "mission accomplished," well holy ****, the mission was not accomplished," said Letterman. "They put a banner up on the SS Lincoln, George flies up on the thing. He was very cute."
"What more do we want this man to do for us, honest to god," asked Letterman to applause.
"And there you have it," responded Williams.
The segment concluded with a discussion on gay marriage and Letterman attempting to get to the bottom of his confusion as to why some would oppose same-sex marriage rights.
Watch the segment below via CBS:
Have a tip we should know? tips@mediaite.com