Democratic Rep. Goes Off On GOP, Apologizes To Benghazi Testifiers: 'You Have Been Brought Here As A Ruse'
Dem. Rep. Rips GOP, Apologizes To Benghazi Testifiers: 'You've Been Brought Here As A Ruse'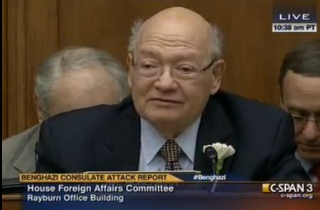 During today's congressional hearings over the Benghazi attacks, retiring Democratic Rep. Gary Ackerman (NY) used his speaking time to attack the Republican Party and personally apologize to the State Department officials for their being brought before Congress as part of a GOP partisan "ruse."
"I want to first start by apologizing to the deputy secretaries because you have been brought here as a ruse," Ackerman pointedly said to the testifiers seated before microphones along a table before him. "You are being used as foils to the conflicting intentions of some people on our committee and others in Washington for partisan political purposes."
He continued to tear into the Republicans for helping Congress to become a "partisan bickering bunch of grousing old people trying to exploit whatever we can to our political advantage." Yeesh.
The retiring congressman then lamented that his colleagues "have become people who want to exploit any kind of national calamity to the political advantage of our party. And the public is sick and tired of it."
He suggested the Republican Party's "attitude" plays a big factor, and that they lost this year's presidential election because of that and their repeated referring to President Obama "in such vile terms," attempting to paint him as an "illegitimate" leader.
Ackerman went on to dismiss the Republican concerns over the administration's handling of the Benghazi attacks, boiling down the situation as Republicans "trying to quibble around here on this particular issue of the narrative rather than how we work together to make things better, to quibble over somebody said a particular word or didn't use the right word, rather than figure out how to avoid the mistakes that might been made to not lose American lives in the future."
Republicans who've attacked Secretary of State Hillary Clinton also drew Ackerman's ire. "Derogatorily looking at the secretary of state who has worked herself to the bone to the point of dehydration and exhaustion, does a disservice to the job she has done in the name of all of us," he scorned.
He concluded: "We've come here to either play defense or offense and defend our point of view rather than do what is right in the name of our country."
Watch below, via C-SPAN 3:
[h/t TheBlaze]
— —
>> Follow Andrew Kirell (@AndrewKirell) on Twitter
Have a tip we should know? tips@mediaite.com