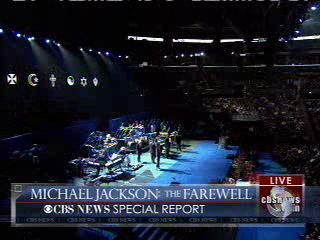 How many memorials have gotten the full wall-to-wall cable news and broadcast network treatment? There was an emotional concert, mixed with emotional speeches, celebrating a legend of the music industry.
But the question after all this coverage is – too much? For the last fifteen years, Michael Jackson coverage has included, in most instances, words like "bizarre" and "trial" and "abuse." Now, that's all but forgotten. MTV and VH1, sure. But cable news? Never mind that, network? ABC, CBS and NBC? How did we get here?
The "Big 3" anchors (Katie Couric, Charlie Gibson and Brian Williams) were there. Anderson Cooper and Shepard Smith as well. And yes, Dan Abrams was one of the many voices heard on MSNBC this morning as well. It was all hands on deck on every single network to talk all things Michael.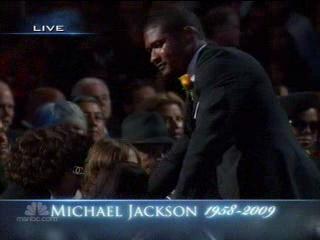 There's no debate over the significance of what Jackson meant to the music world, but the pure block of time spent covering the story does raise eyebrows.
Many of the same people who were previously associated with Jackson and his trial, like Greta Van Susteren, and Martin Bashir, who was most closely associated with the documentary being replayed countless times on MSNBC, were featured commentators this week. The news events and that documentary helped thrust Jackson back into the deeply negative light. Now times have changed drastically, and the media coverage has been fawning.
There's a lot going on in the world. Even setting aside the situation in Iran, and to a lesser extent Honduras, the political stories are vast. There's Gov. Sarah Palin and President Barack Obama's trip to Russia.
But it is a huge event. The ratings, as we've seen with CNN's extensive coverage recently, will be enormous. And beyond the ratings, the amount of interest in Jackson warrants attention. A three hour wall-to-wall block on the networks on a Tuesday afternoon — ad free — is certainly unusual, but won't it draw more eyeballs than soap operas? (Hint: Yes.)
But is it news? That's the real question. Should it be Billy Bush and Nancy O'Dell anchoring, or Couric and Williams? Hearing the ad-lib for 20 minutes between Smokey Robinson's first comments and the next action in the Staples Center only proved the point more: these news anchors just aren't used to this sort of entertainment spectacle.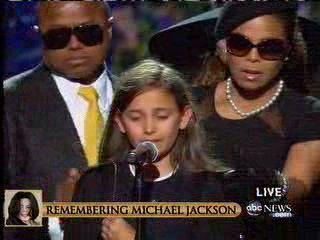 And then…11-year-old Paris Michael Katherine Jackson stepped to the mic. And said her first public words ever. And who knows…maybe all this makes sense.
Shepard Smith on Fox News concluded: "He was a lot of different things to a lot of different people. There were days when on the cover of the New York Post he was just 'Wacko Jacko.' But today, just moments ago, his daughter reminded us all that he was also a daddy."
What happened today was a huge story, built especially for television. And make no mistake about it – television knew it. Is it the end of journalism as we know it? Absolutely not. But now that it's over, this excuse for blanket coverage is too – which will no doubt leave the networks hoping their ratings aren't also "Gone Too Soon."
—–
• Follow Steve Krakauer on Twitter
Have a tip we should know? tips@mediaite.com