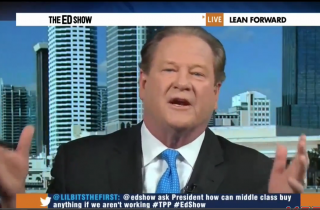 After President Barack Obama teased MSNBC for some of its hosts vocal opposition to the Trans-Pacific Partnership, Ed Schultz whipped out his trademark bluster and challenged the president to a "face-to-face" debate on the trade deal.
"If you were watching MSNBC and all of this stuff thinking, 'Oh, man, I love Obama, but what's going on here?'" the president said Thursday in Washington, D.C. "So I want to the record straight here. I want everybody to be clear about what we're doing. Because I believe in what I'm doing here."
"Well, Mr. president, I want you to know that I believe in what I'm doing," Schultz replied on his show. "If you can prove to the American people that there will not be a depression of wages, if you can prove to the American people that this will create jobs, if you want to go face to face with me, President Obama, I'm ready to go because I have the facts, okay?"
On-air guest Sen. Bernie Sanders (I-VT) assured his host that the president "is talking about you," because no television host has discussed the trade agreement as much as Schultz.
Clearly wounded by the subtle jab, however, Schultz continued to push back on the president. Transcript via RealClearPolitics Video, who first spotted the clip (emphasis added):
You know, why would President Obama use the MSNBC call letters? It's been shown by Media Matters that this show has covered the TPP more than anybody else so I would imagine that he's talking about The Ed Show but the president has never done a sit-down interview with Ed Schultz. Hey, you know, my life is fine but, you know what, on this deal, the president is wrong and I'm right.

[…] I will put my credibility up against any broadcaster in this country. I supported you big time. I was the first liberal talker to support you. I've carried your water big time when it comes to health care, I've carried your water on the economy and defending your move on the automobile industry, but Mr. President, you can take shots at this network, but I guarantee you, you are wrong on this and you cannot prove to the American people.

[…] [H]ad you not had the unions, you would never beat John McCain, had you not had the unions, you would have never beat Mitt Romney and now turning your back on these people trying to convince them that they have to do this phony trade deal that's going to ship jobs overseas. I'd love to talk to you face to face, Mr. President.
Watch below, via MSNBC:
Have a tip we should know? tips@mediaite.com