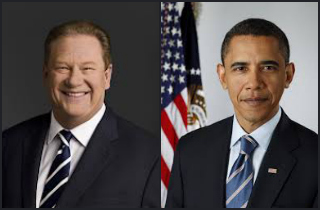 According to MSNBC analyst Richard Wolffe's new book The Message, President Obama once sat through an in-person Ed Schultz rant about his leadership skills; and he often complained about New York Times editorials written in a critical tone towards him.

In the book, Wolffe states that during the 2012 election campaign, Obama had to deal with a "tirade" from MSNBC's current 5 p.m. host, recalling the experience as such:
Ed Schultz sat listening to others opine before ripping into an impassioned plea for the president to stand up and fight. The forty-fourth president of the United States listened calmly and nodded his head, surprising his aides with a meek appearance that successfully masked how little patience he had for such criticism.
"You mean, the president was paying attention to my commentary," Schultz boasted after reading that excerpt on the radio this morning. "I don't know, maybe they had thin skins over there at the White House."
The book also recounts how the president took issue with several NYT editorials taking critical tones towards his administration: "After each negative editorial, the president would summon his communications team to discuss the critical coverage," Wolffe wrote, according to a HuffPost excerpt. "It was a deeply unpleasant experience for his staff, who bore the brunt of the presidential outbursts."
Washington Post's "The Fix" blog has even more details from the NYT story:
At one point Obama was going to call the Times switchboard, but senior adviser Dan Pfeiffer blocked his assistant Anita Decker from doing that because "If you call the main line, they are going to announce on the PA system that the president is on the phone for Andy Rosenthal. We can't do that."
[h/t NewsBusters]
— —
>> Follow Andrew Kirell (@AndrewKirell) on Twitter
Have a tip we should know? [email protected]