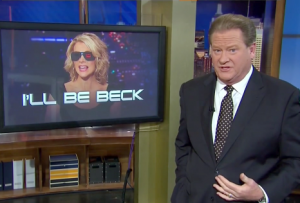 Fox News' Megyn Kelly promoted her new primetime show as different from the rest of the network's lineup, saying specifically she wouldn't be the female version of Bill O'Reilly. MSNBC's Ed Schultz found this laughable, and mocked Kelly for what he said was just another right-wing talking point Fox News echo chamber.
Schultz said for her claims to be true, "she needed a guest above Fox's standard fare," and she opened last night with Ted Cruz.
Schultz seemed to think Kelly having Cruz on at all was a problem, but it wasn't the lovefest Schultz made it out to be. Kelly actually challenged Cruz during the interview on whether his actions against Obamacare are actually costing the Republicans politically, and even brought up polls showing Cruz has pretty significant unfavorable numbers.
Also, under Kelly's name in the monitor, Schultz displayed the caption "I'll Be Beck," and showed a video of Glenn Beck's first-ever Fox interview with Sarah Palin, of all people, to hammer home some kind of weird point about Kelly basically being the female Beck.
Whatever anyone thinks of Kelly's style, she's certainly not as outwardly politically biased as some of her colleagues. She very vocally and powerfully took on two of her Fox News colleagues on the air for their apparent issues with more women becoming the breadwinners in their households. And on the infamous election night Karl Rove near-meltdown, Kelly actually asked him, "Is this just math that you do as a Republican to make yourself feel better, or is this real?"
Hardly someone who's in the tank for the right.
Watch the video below, via MSNBC:
[photo via screengrab]
— —
Follow Josh Feldman on Twitter: @feldmaniac
Have a tip we should know? tips@mediaite.com
Josh Feldman - Senior Editor