Ed Schultz Warns Wisc. Voters Supporting Scott Walker That 'They Could Be Voting For A Criminal'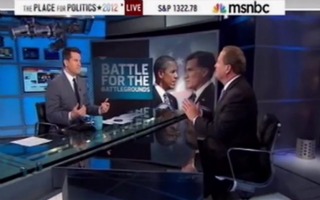 MSNBC host Ed Schultz told Thomas Roberts on Thursday that he thinks it would be a good thing for Democrats if Wisconsin Gov. Scott Walker retained his seat in an upcoming June 5 recall. Schultz also claims that Wisconsin's voters could be turning out to retain a "criminal" in the governor's mansion.

RELATED: MSNBC's Ed Schultz: Is Birtherism 'Just Another Form Of Racism?'
"There has been no governor that has attacked the middle class more than Scott Walker," said Schultz. "So if they put him on the ticket – win, lose or draw – it would be the dream ticket for the Democrats because he is so vulnerable."
Schultz continued, warning Wisconsin's voters that they "may be voting for a criminal."
Schultz cited an investigation into what is being called the "John Doe" scandal in which Walker is alleged to have employed staffers while he was Milwaukee County executive who sent illegal campaign emails to county residents while on taxpayer-funded time. The governor's attorney met with federal prosecutors on the matter on Monday. Walker has not been implicated in the scandal, but he has established a legal defense fund.
But while these vague but nevertheless serious allegations against Walker merit the voter's scrutiny in Schultz's estimation, what Schultz deems unworthy of mentioning is a much more recent scandal surrounding Milwaukee police manipulating criminal statistics to suggest that there has been a drop in violent crime under Mayor Barrett when in fact violent crime has increased.
The Milwaukee Journal Sentinel revealed that an investigation uncovered the details of the juking of the criminal statistics:
More than 500 incidents since 2009 were misreported to the FBI as minor assaults and not included in the city's violent crime rate, the investigation found. That tally is based on a review of cases that resulted in charges – only about one-fifth of all reported crimes.

Yet the misreported cases found in 2011 alone are enough that Flynn would have been announcing a 1.1% increase in violent crime in February, instead of a 2.3% decline from the reported 2010 numbers, which also include errors.
As of this writing, Barrett's own campaign website touts his leadership on crime as a central campaign platform: "violent crime in Milwaukee has decreased by 20% over the past two years, and homicides are at the lowest levels in more than 20 years," reads a portion of Barrett's campaign website.
One criminal act does not, of course, negate the other. Furthermore, the election still hinges on the popularity of Walker's dramatic reforms to public sector union collective bargaining rights rather than the scandal of the moment.
While the Democratic National Committee has projected the impression that the national party is bracing for a loss in the June 5 recall election by not committing funds to aid Mayor Barrett, the Democratic Governors Association is allocating $1 million to aid Democrat's recall efforts.
GOTV efforts are exhausting and mobilizing the same constituency twice in a single year is difficult. Wisconsin is an important swing state that has remained in the Democratic coalition in presidential cycles in 1988. Democrats risk overplaying their hand in Wisconsin and, if they lose this June 5 recall effort, Badger State Democrats will be seriously demoralized ahead of an equally tough election cycle for President Barack Obama.
Watch the segment below via MSNBC:
Have a tip we should know? tips@mediaite.com