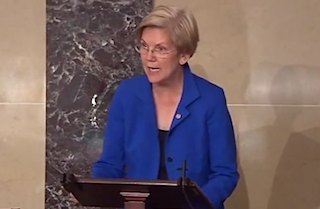 On Wednesday afternoon, Republicans in the Senate effectively blocked a bill that would have overridden the Supreme Court decision that said closely-held corporations like Hobby Lobby did not have to cover certain contraception methods for their employees. But not before Sen. Elizabeth Warren (D-MA) made her opposition to the decision loudly known.
Speaking from the Senate floor Tuesday, Warren accused Republicans of "trying to put women's fundamental rights on the chopping block." She called the Supreme Court's Hobby Lobby "shocking" and commended her fellow Democrats for devising legislation that would reverse its effects.
"I'll be honest," she said. "I cannot believe we are even having a debate about whether employers can deny women access to birth control. Guys, this is 2014, not 1914. Most Americans thought this was settled long, long ago. But for some reason, Republicans keep dragging us back here over and over and over again."
Warren called the Hobby Lobby case "just the most recent battle in an all-out Republican assault on women's access to basic health care" and said while she found the Supreme Court ruling "stunning," it was not entirely "surprising."
"Giant corporations and their right-wing allies fight every day in Congress to protect their own privileges and to bend the laws to benefit themselves. They devote enormous resources to the task," Warren said. "Sometimes, we beat them anyway."
But while the Senate voted 56 to 43 to continue debate on the proposed bill — with three Republicans joining Democrats on the majority side — it did not reach the 60 vote threshold never to move forward.
Watch video below:
[Photo via screengrab]
— —
>> Follow Matt Wilstein (@TheMattWilstein) on Twitter
Have a tip we should know? tips@mediaite.com