Factor Panel Debates Obama's 'Class Warfare' Vs. Trump's 'Cult Of Celebrity'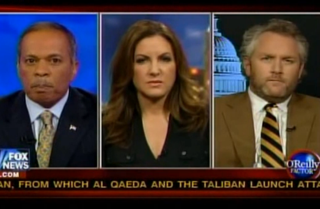 With 2012 looming ever nearer, the economy is taking center stage in national politics, causing some concern over the possibility of "class warfare" erupting in protests and election booths across the country. On last night's O'Reilly Factor, host Juan Williams played referee to radio host Leslie Marshall, who was convinced "we already have class warfare," and Andrew Breitbart, who blamed the left for said animus.
"I'm worried about class warfare being played up into the summer," a wary Breitbart noted with regard to the Democrats' opposition to the Bush tax cuts and liberal rhetoric on sacrifices the rich must make, "making it appear as if every rich person is greedy." He didn't quite manage to convince Marshall of the danger, as she believed class warfare already existed as "the working middle class are being annihilated in America" while the rich pay little taxes: "the haves are not taking care of the have nots." What Marshall saw as the President sticking to his word– "he has always said he did not want an extension of the Bush tax cuts"– Breitbart retorted was language that "demonized… the people who make the jobs," which did nothing positive to the economy.
Looking to the future, it appeared, at least, that neither Breitbart nor Marshall was particularly happy with the rise of Donald Trump, at least as a real contender. Marshall, however, diverted from both Breitbart and Williams in seeing the possibility of Trump winning. "He's got no experience, but a lot of celebrity," she noted, highlighting that, there in California, they had already seen at least one "governator" take power based almost entirely on celebrity– "don't underestimate the Donald!" Williams accused Marshall of being "Machiavellian" for encouraging his run, noting that it would almost certainly guarantee President Obama's reelection. On Breitbart's end, he didn't even believe Trump was a conservative: "he was for Nancy Pelosi before he was against Nancy Pelosi," he argued, though conceding that "celebrity is everything in this country."
The segment via Fox News below:

Have a tip we should know? tips@mediaite.com