FBI Director: NSA Leaks Educate Terrorists Who 'Don't Understand The Internet'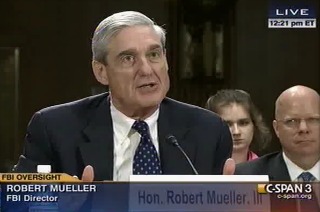 Testifying before a Senate committee on Wednesday, FBI Director Robert Mueller said that the leaks relating to the communications monitoring practices of the National Security Agency can hurt American national security interests in a variety of ways including educating aspiring terrorists about the internet itself.

"As much as there's a public interest in classification of a lot of this information, there's also a public interest in declassifying it," said Sen. Sheldon Whitehouse (D-RI). "And, in some cases, I would contend that declassification has exactly zero national security risk associated with it."
He said that the Senate does not declassify, so the upper chamber is depending on Mueller and the FBI to declassify some controversial national security practices.
"I do understand your sentiments," Mueller replied.
RELATED: FBI Director Mueller Defends Investigation But Not Prosecution Of Fox Reporter James Rosen
"We tend to think that people know and understand the internet around the world," he continued. "But you have persons who want to undertake terrorist attacks who don't have a full understanding of the internet. And, to the extent that you expose programs like this, we are educating them. We're educating them about how the internet works actually worldwide."
"They will be educated and find other ways to communicate and we will not pick up the communication that we want," Mueller warned. "I would not underestimate the price to be paid by substantial disclosures."
Whitehouse agreed but noted that, in a criminal investigation, evidence is not disclosed but the warrant is. In this way, he said, some disclosures relating to an ongoing investigation is not harmful.
Watch the clip below via C-SPAN 3:
> >Follow Noah Rothman (@NoahCRothman) on Twitter
Have a tip we should know? tips@mediaite.com