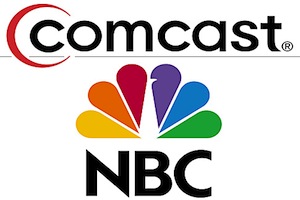 On the cusp of the largest corporate TV merger in American history, the FCC is beginning to express concerns that a monopoly on such an extensive library could hamper the free flow of information. The AP reports today that FCC Chairman Julius Genachowski is seeking new conditions from NBC and Comcast before allowing their merger that would specifically protect online content and mandate arbitration.
While many of the new conditions potentially proposed by the FCC have yet to be made public, sources told the AP that paramount among the concerns the regulatory commission is expressing is the fear that companies such as Netflix, Amazon, or Apple will be placed under a chokehold by the mammoth company in attempts to aggregate NBC content, "locking consumers into costly monthly cable bills to get access to a wide range of popular programming." "Genachowski appears most significantly concerned about the opportunity that the corporation could find to corner the market on online content," the report continues, outlining via sources the two most significant potential conditions: mandatory arbitration and obligatory access to much of NBC Universal's online video:
That condition would mandate arbitration to settle any disputes and would potentially prohibit Comcast from withholding NBC Universal content during negotiations — a practice that broadcasters have been increasingly turning to in the push for higher fees.

Another condition would require Comcast to make NBC Universal programming available to Internet video distributors under certain circumstances. Existing FCC rules require cable companies to provide channels they own to rivals such as satellite companies, but right now those rules do not apply to Internet distributors. Imposing similar obligations on Comcast in dealing with Web distributors would help prevent Comcast from stunting the growth of Internet video.
The first condition seems to be a case of "lesson learned" after last season's war between Cablevision and News Corp., for which many offered binding arbitration as a solution. The latter condition is a bit more of an obvious threat, given that, should the FCC (as expected) approve the merger, the NBC/Universal media world would now include– in addition to stalwarts like Telemundo, CNBC, MSNBC, Bravo, and Oxygen– channels like E! and the Golf Channel and myriad television and internet distribution programs.
The report concludes that the FCC is expected to approve the merger next year, should the conditions be accepted, another provision that seems well on its way to completion: "In a statement, the company said the proposal would ensure that the deal delivers 'real public interest benefits' and 'enable us to operate the NBC Universal and legacy Comcast businesses in an appropriate way.'"
Have a tip we should know? tips@mediaite.com