Fmr WH Official: Shinseki Can't Go Because GOP May Take 'Pound of Flesh' in Replacement Hearings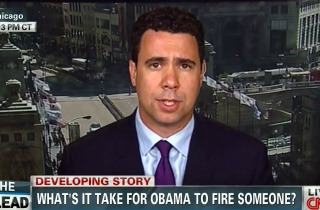 Much of the political world is engaged in a bout of speculation regarding why President Barack Obama stubbornly refuses to demand the resignations of people close to him who blunder or create a series of bad news cycles for his administration. Is it an abundance of loyalty? Does the president see the disruption associated with firing a problematic official to be a worse evil than keeping them on the job? Maybe, as CNN host Jake Tapper suggested, Obama just hates the "Washington game."
Well, it's safe to assume the latter is not the case. Appearing on CNN's The Lead on Thursday, former White House communications official and Obama campaign veteran Bill Burton suggested that one of the reasons why VA Sec. Eric Shinseki cannot be let go is because the president is not only playing the "Washington game," he is aiming to win it.
"Just imagine," Burton began. "It's not like Senate Republicans are going to let you put some new head of the VA in to deal with the problem."
"They are going to, you know, extract their pound of flesh and make it as difficult as possible for him," the former Obama communications official added rather cynically.
Burton noted that many were demanding that former Health and Human Services Sec. Kathleen Sebelius resign when the ACA's website debuted to catcalls from the public and the press. Eventually, however, 8 million signed up for insurance through that website.
"So, sometimes it's better to keep in place the personnel that you've got, and not just fall victim to, you know, what Darrell Issa and some vulnerable Democrats are saying," he added.
Noting at the end that it was within the realm of imagination to suggest that those calling for Shinseki's ouster may not be motivated by politics alone, Burton nevertheless said that the president trusts his own judgment and those around him.
Well, it only took three months to fix the disastrous ACA website. Veterans will certainly be comforted by Burton linking HealthCare.gov's rollout to the systemic falsifying of data by the VA to avoid accountability for not providing them the care that they need immediately.
You guys can hang tight for, you know, indefinitely? Right?
Watch the clip below via CNN:
[Image via screengrab]
— —
>> Follow Noah Rothman (@NoahCRothman) on Twitter
Have a tip we should know? tips@mediaite.com