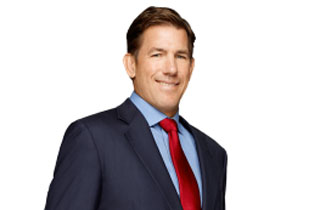 In our continuing coverage of Ridiculous Political Candidates of 2014, we have a twofer: Thomas Ravenel, a former politician busted for cocaine possession and a Bravo reality TV star, announced his candidacy for the Senate seat currently held by Lindsey Graham (R-SC).
Ravenel, 51, is a libertarian-leaning candidate running as an Independent, and has everything one could want from a modern politician. For the scandal-obsessed, he was the former State Treasurer of South Carolina, but was forced to resign in 2007 after being indicted for cocaine possession, and did a ten-month stint in federal prison. (In an interview with The State, Ravenel, the son of a former congressman, thought that he "got a worse sentence than the drug dealer, how's that work? He had a thousand customers. What happened to the other 999? … What I do in the privacy of my own home should be my own business.")
For the reality show-obsessed flibbertigibbets of the world, Ravenel, along with his 22-year-old wife Kathryn Dennis, is one of the six stars of Bravo's Southern Charm. That same interview with The State tersely describes Ravenel's actions in the pilot episode thusly:
According to the women, the men suffer from PPSD, or Peter Pan Syndrome, meaning they never want to grow up.

That diagnosis might be considered especially appropriate for Ravenel, who, at age 51, is considerably older than many of his friends on the show. Still, he is youthful, and the show has featured him enjoying coffee in bed with his lover, hosting a polo match at his plantation on his personal polo field and making jokes about how he doesn't have a problem with cocaine – he only likes the smell of it.

That was all in the first episode.

Ravenel says the show is accurate in its portrayal of him.
Currently, Ravenel is in the process of collecting the 10,000 signatures needed for him to make the ballot, but says he has the ability to self-fund his campaign. Which is good, since, as The Hill notes, Graham crushed his opponents in the GOP primary.
[h/t The Hill]
[Image via Bravo]
—
>> Follow Tina Nguyen (@Tina_Nguyen) on Twitter
Have a tip we should know? tips@mediaite.com