Former SC Dem Chair Claims Alvin Greene's Income More Suspicious Than Vote Numbers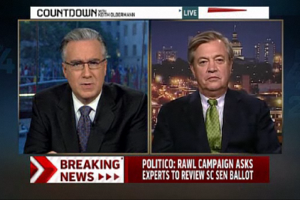 It's unclear how this is possible, but somehow the Alvin Greene story can get weirder. After the mystery South Carolina Democratic candidate won his primary with nothing but "good old fashioned campaigning"– whatever that is– and was found to have a felony pornography charge against him, SC officials are now revealing that Greene won more votes in some districts than the total number of votes actually cast.
On last night's Countdown, Keith Olbermann— who had his own awkward run-in with Greene the day before– had former South Carolina Democratic chair Dick Harpootlian on the program to explain, from a local government perspective, what could have possibly happened on election day that launched an unknown candidate into a state-wide general election, defeating an experienced public service with some semblance of a campaign, which is more than anyone can say for "Greene for Senate."
Harpootlian didn't seem to concerned with the tallies, since the votes were computerized and a glitch could easily be blamed. He explained the disparity between the total number of votes and the number of votes Greene received as "an old Southern tradition. We learned it from Chicago." Addressing his concerns seriously, he replied that he was much more worried that "we have a guy spending $10,400 to file for the United States Senate who just a few months before had told judicial officials that he was indigent."
"It's a Republican tradition in this state to do these sort of weird, crazy things," he continued, and, while not blaming GOP Senator Jim DeMint specifically for being involved in making Greene a "plant," he said it was possible someone could have done it on his behalf, as it wouldn't be the first or last time South Carolina saw this kind of shady activity.
The segment from last night's Countdown below:

Have a tip we should know? tips@mediaite.com