Fox Analyst: Code Pink Gitmo Protests Taught Obama 'It's Easier' to Just Kill Terrorists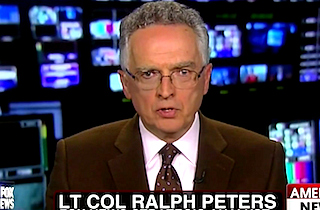 Colonel Ralph Peters, a Fox News strategic analyst, told host Bill Hemmer Monday afternoon that Code Pink and MoveOn.org's protests of Guantanamo Bay had increased the Obama administration's rate of assassination of suspected al Qaeda terrorists, presumably to prevent them from ending up at the controversial prison. Peters so believed this that he wore pink in tribute to the protest group for his Fox News appearance.

"This is good news," Peters said of the recent drone strike in Yemen that may have killed over fifty al Qaeda members. "Ain't no down side to killing that large number of al Qaeda terrorists."
"Ultimately al Qaeda is not about us and whether we cut back and increase drone strikes and they create more terrorists," Peters said. "There are going to be more terrorists anyway, because the problem is the comprehensive failure of the civilization of the Middle East…There's no short term fix. This is a long struggle. We have to keep killing hardcore terrorists, probably beyond my lifetime. Sorry, but that's the bad news: you gotta kill these guys."
"By the way, I wore pink as a tribute to Code Pink," Peters continued. "Because if it wasn't for Code Pink and MoveOn.org and all the folks protesting about Guantanamo, we wouldn't be killing terrorists as fast as we are. Because the Obama administration, wonderfully, took the lesson from all the protests against Gitmo, that hey, it's really a lot easier to kill the bad guys. So good on ya, bro."
The "good on ya, bro" makes it art.
Watch the clip below, via Fox News:
[Image via screengrab]
——
>> Follow Evan McMurry (@evanmcmurry) on Twitter
Have a tip we should know? tips@mediaite.com