Fox 'Comedian' Crowder Slams Hannity: 'Liberals Come In and Bulldoze Him Like a Child'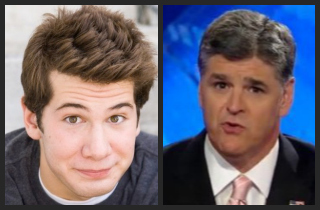 Appearing on HotAir's Ed Morrissey Show this week, Fox contributor and self-described conservative "comedian" Steven Crowder took a few moments to dish on the supposed complications of negotiating a contract with Fox News. He also railed against Fox primetime host Sean Hannity for getting "bulldozed" by Anthony Weiner in a recent interview.
While discussing his own career prospects and lamenting his recent shortage of work (notice the lack of these segments as of late?), Crowder veered off into discussing how the Fox contract negotiation process is, in his opinion, a bit cumbersome.
"I literally have never had an agent since Fox News," the contributor claimed. "Because they just won't talk to them."
He cited a "famous story" in which Fox & Friends host Brian Kilmeade attempted to renew his contract, via an agent, under "reasonable" terms, was told "Nope, bye, we can get someone for less," and ultimately returned to the table to accept the network's initial offer.
"There's no other game in town," Crowder said of Fox's negotiating power. Perhaps sensing how this comes off as "bashing" the network, he then clarified that "I'm not saying this to bash on Fox News" but just that it's "well-known that you can't even bring an agent to the table at Fox."
[Author's note: Take it from this former Fox producer, contributors quite often use agents to negotiate their contracts. There is no Fox rule against it, and so, no, this is not "well-known."]
Crowder then wondered aloud how other young Fox contributors like Katie Pavlich fared in their negotiations without having prior knowledge of the supposed agent situation.
Later on in the segment, when host Ed Morrissey brought up former NYC mayoral candidate Weiner's interview with Hannity, Crowder criticized the Fox host for his handling of the liberal politician.
"I am consistently amazed at Sean Hannity's inability to host his own show," Crowder said. "These liberals who aren't very smart just come in and absolutely bulldoze him like a child."
After throwing in a few kind words — "He's a dear, dear man. A very nice person" — Crowder continued:
Anthony Weiner came onto Hannity, the show Hannity, and took control of the entire show. I just wanted to be like: 'Sean, how do you let this happen? At the very least, you just cut the show and go to commercial or something. But learn to take control. Learn to ask questions to which you'll know the answer.' I'm just amazed. Michael Moore came on, and Michael Moore's not a bright guy. I'm not saying Michael Moore's smarter than Sean Hannity but Michael Moore is better at running interviews than Hannity, even though Hannity's running the interview! But Michael Moore just came in and ran roughshod over Hannity. I couldn't believe it!
"Get Anthony Weiner on a real host's show," Crowder continued, "and I'm sure it would be a very different story."
Watch the clip below, via UStream:
— —
>> Follow Andrew Kirell (@AndrewKirell) on Twitter
Have a tip we should know? tips@mediaite.com