Fox & Friends Guest Slams Axelrod For Leaking Terror Info To Make 'The President Look Tough'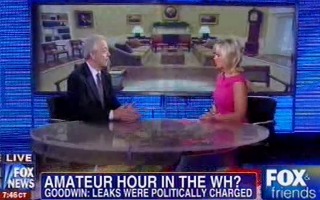 New York Post columnist Michael Goodwin appeared on Fox & Friends on Monday where he blasted senior Obama campaign advisor David Axelrod for attending counter-terror meetings and possibly leaking the results of those meetings to the New York Times. He said that Axelrod's leaks are intended to make "the President look good" and sacrifices national security in order to advance Obama's reelection prospects.

RELATED: NY Post Columnist: 'Sense Of Shame Is Gone' For Entitlement Recipients
Goodwin writes in the New York Post that the Obama White House is "amateur hour" in his recent dissection of a New York Times exclusive from last Tuesday that outline's President Obama's counter-terror "kill list."
Goodwin describes the details that were revealed in the Times about Obama's "baseball card" system of determining what terror operatives overseas to target with drone strikes. A later story outlined the StuxNet computer virus that disabled Iranian nuclear computer systems and details U.S. coordination with Israeli intelligence in that operation.
"This is insane," said Goodwin.
This is stuff that should remain secret for 20 or 30 or 40 years. These are not the things you let out during a campaign and I believe that David Axelrod is at – listening to 'terror Tuesday' meetings –for David Axelrod, the President's campaign strategist, to be at these meetings and then to tell the New York Times who says what – it's clearly a coordinated leak designed to make the President look tough in the war on terror.
"These are things that are about America's interests around the world," said Goodwin. He said that every time there is a victory in the war on terror under the Obama administration, it is accompanied with a leak to the press that reveals operational details. Goodwin said that Rep. Peter King (R-NY) told him that this is a "pattern that goes back two years now,"
"I think it's outrageous," said Goodwin. He concluded by telling co-host Gretchen Carlson that if these types of leaks are being made in June, it does not bode well for what information will be leaked to the press as the general election heats up in the fall.
Watch the segment below via Fox News Channel:
Follow Noah Rothman on Twitter
Have a tip we should know? tips@mediaite.com