Fox & Friends Hosts Unfairly Attack NY Times for Talking to Benghazi Attackers
Rothman:
Fox & Friends
Hosts Unfairly Attack
NY Times
for Talking to Benghazi Attackers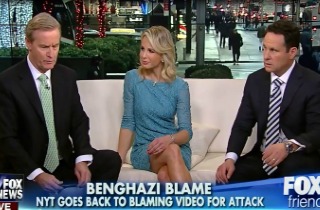 On Thursday, the hosts of Fox & Friends dug into the details of an expansive New York Times report released over the weekend which details many of the events that occurred on the night of a 2012 attack on an American consulate in Libya. The report came to some conclusions which many have determined to be dubious and that contradict past witness testimony and reporting, including that of the New York Times itself. But the hosts implied something even more sinister – that the Times, having confirmed that they had access to sources on the ground on the night of that attack, may have failed the American public by not disclosing to authorities the identities and locations of those attackers. This is an unfair charge against the Times.
Elisabeth Hasselbeck began by noting how remarkable it was for Times reporter David Kirkpatrick to reveal that his paper worked with Libyan reporters who were present at the American consulate in Benghazi on the night of the attack.
"It's curious," Steve Doocy remarked. "Now, so many months later, so many years later we're finding out the New York Times actually had somebody there on the ground that night talking to the attackers? In other words, they would know essentially who murdered our four Americans. Have we really heard them flesh that story out?"
"Certainly raising eyebrows there in terms of questions and what happened and why this information was never released, and why the clean-up in terms of the information and conflicting information been put out earlier," Hasselbeck said.
"People are outraged," she continued. "Lives were lost. [Ambassador] Chris Stevens, gone. And, yet, the information that we receive is now conflicted?
This attack on the Times is unwarranted for a number of reasons.
First, it's likely that the Fox & Friends hosts have no way of knowing for certain whether the Times did work with American and allied authorities to provide them with all the intelligence they had access to while working with sources on the ground in Libya. Neither the Times nor the authorities responsible for capturing the perpetrators of that attack would reveal that information publicly.
Second, this is not the first time that a major American news outlet has revealed that they have had contact with sources on the ground in Benghazi implicated in that attack. In July of 2013, CNN's Arwa Damon where she sat down with Ahmed Abu Khattala, a local militia leader who was extensively profiled in the Times. Khattala bragged about his involvement in the attack that resulted in the death of four Americans.
RELATED: CNN Interviews Accused Benghazi Attack Perpetrator: Not In Hiding, Claims FBI Not Looking For Him
"His demeanor most certainly not that of a man who believed he was going to be detained or targeted any time soon," Damon said of Khattala.
But for those who seek justice for the Americans killed in Benghazi, Damon was not betraying the public by speaking to the attacker. Instead, her report appears to have motivated an otherwise lethargic federal government to action.
A week after Damon's interview with Khattala aired, federal authorities filed the first criminal charges associated with the Benghazi attack and named "prominent Libyan militia figure Ahmed Abu Khattala" in one sealed indictment. The move came after lawmakers' heaped criticism on the government for taking no action against the Benghazi attackers while a CNN reporter appeared to be able to access a suspect who displayed a cavalier lack of concern for U.S. reprisals.
For all the public knows, independent reporters, in concert with investigators, may have aided in charging the Benghazi attackers. The fault for insufficient haste in addressing this attack lies with the government, not with media outlets seeking to expand the public's knowledge about what happened on that deadly night.
The Times report comes to a series of problematic and likely flawed conclusions, but the journalistic methods employed to come to those conclusions were sound. Further, it is unfair to attack the Times for speaking to reporters involved in that attack. It is not an unprecedented practice and it is one that can lead to positive outcomes.
[Photo via screen grab ]
— —
> >Follow Noah Rothman (@NoahCRothman) on Twitter
Have a tip we should know? tips@mediaite.com