Fox & Friends Mock Obama's 'Forward' Slogan: 'Hadn't Decided Whose Slogan They Were Going To Steal'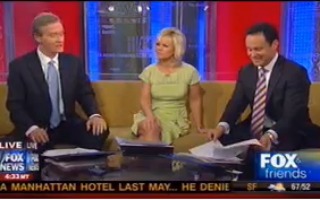 On Tuesday, the Fox & Friends team took a look at the new, one-word slogan put forth by President Barack Obama's re-election campaign, kicking off their segment with a clip of host Jay Leno joking that the campaign is emphasizing looking "Forward" because it doesn't want voters to focus on all its broken campaign promises from the first go-around.
You might also recall that, yesterday, Morning Joe host Joe Scarborough spoke about his own issues with the new slogan, joking about whether Mitt Romney would now follow suit and adapt Fox News' "Fair and Balanced" slogan for his own campaign.
RELATED: Joe Scarborough Bashes President Obama's New 'Forward' Slogan
"They hadn't decided whose slogan they were going to steal," said host Steve Doocy, referring both to the initial "secrecy" surrounding the debut of the new slogan and to its similarity to MSNBC's relatively new branding campaign. "They say that this particular slogan is going to stress the fact that looking forward how the President needs to build on his accomplishments and deserves a second term. But when you look forward, let's take a look at some of the things — and this data is gathered by the New York Post this morning — let's take a look at how things are right now as opposed to when they were when he was elected."
"For example," said Brian Kilmeade, "the debt was 10 trillion. now it's 15.6 trillion. the jobless rate is now up to 8.2 from 7.8 ("Both forward numbers," joked Doocy) and gas is $3.81, $2.50 when he took over. Americans who are on food stamps almost doubled."
"Forward as in four more years," said Doocy, ominously.
Check it out, via Fox News:
Have a tip we should know? tips@mediaite.com