Fox & Friends Tries, Fails to Turn Feinstein's 'Man Up' Remark into Kerry Criticism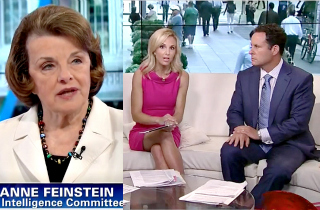 Fox & Friends cohost Elisabeth Hasselbeck found Secretary of State John Kerry's Sunday show rhetoric on downed flight MH17 somewhat lacking in the oomph department, especially when compared to Senator Dianne Feinstein's (D-CA) call for Russian President Vladimir Putin to "man up."
"She had stronger language than he did," Hasselbeck said. "Is word on the ground in Washington that they would like Secretary Kerry to step up the language?"
If so, that would set up a quick "Dems in Disarray" narrative that Fox loves so much. So if there were a clip of Feinstein herself answering that exact question, that would settle the matter, no? Here, thirty seconds before Feinstein's "man up" comment:
CANDY CROWLEY: "It seems clear from what the Secretary of State said earlier, Russian separatists used Russian equipment, that they were trained on by Russians, to bring down a commercial jetliner. So are you satisfied at this point with the U.S. response?"

FEINSTEIN: "Oh, I'm satisfied with everything John Kerry said this morning. I think he outlined the case clearly. I think the intelligence is backing up the fact that this was a missile from an SA-11 Buk launcher, that the trajectories and signatures are such that we know that it came up and within seconds hit either near or hit the plane." [E.A]
Welp, that answers that. It seems more that Kerry was prosecuting a case against Russia so that figures like Feinstein, who sits on the Senate Select Committee on Intelligence, could have the evidentiary standing to call for accountability from Vladimir Putin. The gap in their rhetoric, perceived or otherwise, was one of progression, not temperament or substance.
Watch the video below, via Fox News:
[Image via screengrab]
——
>> Follow Evan McMurry (@evanmcmurry) on Twitter
Have a tip we should know? [email protected]