Fox Interview Ends After Guest Accuses Network Of Operating As 'Wing Of The Republican Party'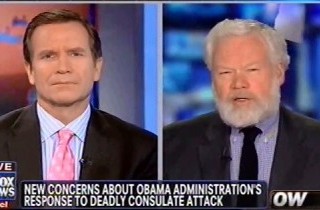 A Fox News interview about the Benghazi attacks ended Monday morning after the guest openly accused the network of "hyping" the story — doing so with political motivations by acting as "a wing of the Republican Party."
Author Tom Ricks was brought on Happening Now to discuss how several GOP lawmakers are backing off their criticism of U.N. Ambassador Susan Rice's handling of the September terror attacks that left four Americans dead in Libya.
Asked why lawmakers like Sen. John McCain seem to be backing off Rice a bit lately, Ricks replied: "I think Benghazi was generally hyped by this network especially. And now that the campaign is over, I think he is backing off a little bit. They aren't going to stop Susan Rice from being Secretary of State."
Co-anchor Jon Scott pushed back, asking "When you have four people dead, including the first U.S. ambassador, for the first time in more than 30 years, how do you call that hype?"
"How many security contractors died in Iraq? Do you know?" Ricks shot back.
"I don't," replied Scott.
"Nobody does because nobody cared," Ricks said. "We know several hundred died but there was never official count of security contractors in Iraq. When I say this focus was essentially on a small fire-fight, I think, number one, I've covered a lot of fire-fights and it is impossible to figure out what happens in them sometimes."
Ricks then took another open shot at Fox News: "I think the emphasis on Benghazi has been extremely political, partly because Fox is operating as the wing of Republican Party."
At that point, Scott cut the interview short: "Tom Ricks, thanks for joining us today."
Ricks smirked and replied: "You're welcome."
Watch below, via Fox News:

— —
>>
Follow Andrew Kirell (@AndrewKirell) on Twitter
Have a tip we should know? tips@mediaite.com