Fox News Guest Outraged Over Homeland Security Official's 'Endorsement' Of May Day Protests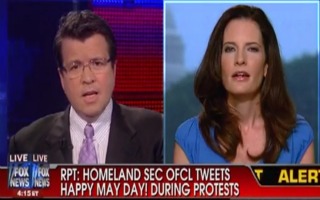 A tweet sent out by an advisor with the Department of Homeland Security caused a stir on Wednesday. The tweet from a now-deleted account belonging to DHS appointee Nate Snyder, read "Happy May Day #Solidarity" addressing the Occupy Wall Street activists and protesters around the world who celebrate the May 1 international workers holiday. On Wednesday, Fox News Channel's Neil Cavuto's conservative guest was outraged by the tweet and said that May Day has been linked to violence and the Occupy movement.

RELATED: Fox & Friends Panel Explodes Over Pro-Occupy Wall Street Professor's Claim: 'These Are Playful People'
Cavuto opened the segment by playing images of Occupy protesters chanting and protesting and asked "this is a happy May Day?"
Kate Obenshain, a spokesperson for the Young America's Foundation, was shocked when Cavuto said that the Obama administration had confirmed to Fox News that Snyder was only a "liaison" to the DHS.
"Only a liaison," asked Obenshain. "He used to be the liaison to the White House. This is the Department of Homeland Security. The office that is tasked with protecting Americans. And this guy, he used to work for the Obama campaign and before that he worked for the Service Employees International Union – the largest contributor to the Obama campaign."
"This guy is relatively high up in the Department of Homeland Security," Obenshain continued. "The Obama administration has not distanced themselves from this comment. We've heard that they tried to distance themselves from Occupy Wall Street, but this was an endorsement – a message of support – for these May Day, otherwise known as international workers day, the mayhem that took place in Seattle and Portland and New York."
Cavuto said that they reached out to Mr. Snyder but he was unavailable for comment.
"Occupy Wall Street has been possibly involved with the Cleveland bombing of the bridge," said Obenshain, referencing the Tuesday arrests of five Ohio residents who were implicated in the attempted bombing of a local bridge. "There was this white powder substance that was sent around. These are things that raise a lot of concerns among Americans. They've not be exonerated, they've not be implicated, but there are questions going on."
Obenshain said that May Day has been linked to violence and class warfare since the 19th Century. She went on to say that this twitter message by an elected official betrays the friendliness in the Obama administration and that Obama's reelection slogan, "Forward," also has its roots in the history of global communist movements.
Watch the segment below via Fox News Channel:
Have a tip we should know? tips@mediaite.com