Fox News' Liz Trotta Sounds Off: Jodi Arias Trial 'Got Hijacked By Feminists'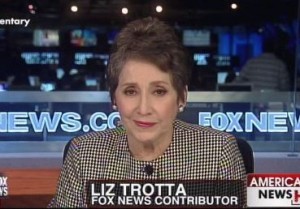 The trial of 32-year-old photographer Jodi Arias, who murdered her lover Travis Alexander in 2008, finally kicked off, after over a year of motions and delays, this January in Phoenix. The story has attracted widespread attention from the public and intense coverage in the media.
On Sunday morning's America News HQ on Fox News, author and journalist Liz Trotta delivered her regular Commentary clip, weighing on the captivating trial.

Trotta noted the appeal of the story, comparing it to a gladiatorial spectacle:
The trial of Jodi Arias has all the appeal of a fight to the death in a Roman arena…. Ms. Arias, after two years of lying, admitted that in 2008 she shot her lover through the head, stabbed him 27 times, and then cut his throat ear-to-ear. No one is sure which blow was the fatal one as several days passed until friends found his naked body in a blood-spattered shower stall….
She then described the relationship of Arias and Alexander as "a sex-fueled, elongated one-night stand that reflects the often pornographic madness of modern love."
Trotta criticized the extent to which feminist ideology has played a role in Arias's defense, noting:
The California psychotherapist, testifying for the defense, has infused the proceedings with a bible of psycho-babble. We hear of 'disassociative amnesia,' 'secondary emotions,' and, of course, the old reliable 'self-esteem.' The murdereress, you see, was an abused woman, a battered woman, a victim. Somehow this murder trial got hijacked by feminists and abuse trumps murder. Isn't there a way to try to murder in this country without submitting to the…fake social science of the moment?…. Playing the victim is [Arias's] only card…. She appears to cry at some moments but no tears are visible, even in high-def…. Will this trial establish that murder is a woman's acceptable recourse, when a man does her wrong?…. [On Thursday, the prosecutor] conjured an image of Snow White and the Seven Dwarfs, noting the seminar created by the psychotherapist entitled: 'Was Snow White A Battered Woman?'
[emphasis added]
Click below to view the clip, courtesy of Fox News:
Follow AJ Delgado on Twitter >>> @missADelgado
Have a tip we should know? tips@mediaite.com