Fox's Carlson, Guests Battle Over 'Out of Touch' Obama: Does He 'Know Absolutely Nothing'?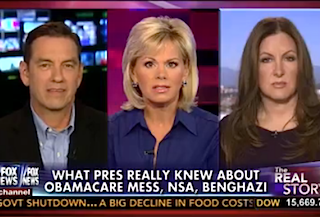 The latest scandal to engulf the White House, at least according to Fox News, concerns what President Obama knew when about everything from the Affordable Care Act rollout to new NSA spying revelations to last year's attack on the U.S. consulate in Benghazi. "Are we to the point now where we have a president who knows absolutely nothing?" Gretchen Carlson asked her guests Tuesday afternoon. "Is this the eyes wide shut president?"
Though she found that turn of phrase "cute," liberal radio host Leslie Marshall denied the suggestion that Obama is out of the loop. On the issues of national security in particular, Marshall said that for decades Democratic and Republican presidents have been briefed by the NSA, but cannot be expected to know every detail about every operation.
"Come on, these are huge issues," Carlson shot back. "This is the most important job in the world and you are telling me that the president of the United States should not know who we are spying on," she said, getting more heated. "Should not know about the IRS scandal, should not know about Benghazi, should not know about Fast and Furious, should not know about Obamacare rollout?"
"It is comical, it's absurd, it's laughable," conservative radio host Chris Plante said. "Who is the real president if he doesn't know about these things?" He went on to describe a president who is "everything Democrats accused Ronald Reagan of being," namely "out of touch, unaware of what's going on around him and surprised."
When Marshall brought up analogous situations from Obama's Republican predecessor, Plante said, "If this was a Republican president he would have been nailed to a piece of wood long ago."
Even Carlson could admit, "That's a pretty strong statement."
Watch video below, via Fox News:
[photo via screengrab]
— —
>> Follow Matt Wilstein (@TheMattWilstein) on Twitter
Have a tip we should know? tips@mediaite.com