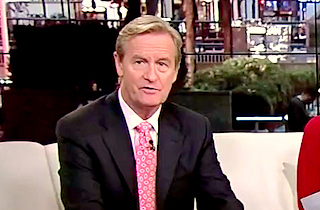 Fox & Friends host Steve Doocy wandered away from the tour Tuesday morning when he noted that the U.S. "oddly" has no surgeon general to coordinate the nation's ebola response, explaining quickly that Vivek Murthy's confirmation has been "tied up in politics" before hurrying off the topic.
Doocy "oddly" did not specify which politics, perhaps because doing so would directly indict the National Rife Association, which has fought Murthy's confirmation to a standstill by leaning on Senate Democrats. Alarmed at Murphy's support of policies more strictly regulating the sale of guns, the NRA ground his confirmation to a halt this spring, putting the screws to red state Senate Democrats such as Mark Begich (D-AK), Mary Landrieu (D-LA), and Mark Pryor (D-AK), all of whom are still in tight battles for reelection.
(Not to place the entirety of the blame on these three: Murthy's confirmation would be a breeze if it were not opposed by the GOP as well.)
The NRA was not swayed by the fact that the surgeon general's office does not directly influence gun policy. "All the rules have changed as far as this White House is concerned," an NRA spokesperson said in March. "Given Dr. Murthy's blatant activism on behalf of gun control, that's not a gamble we're willing to take."
Questions about the missing surgeon general have surfaced as lawmakers call for an "ebola czar," as a surgeon general would effectively fill that role. Bringing up his absence in this context was a chance for Doocy to score off Senate Dems — who, between this stall and their vote against post-Sandy Hook gun reforms, have been appallingly obeisant to the gun lobby.
But there was no way of getting out of that without more fully implicating the NRA as well. Doocy & Co. quickly pivoted away, suggesting they're as scared of crossing the gun lobby as lawmakers are.
Watch the clip below, if that's your thing, via Fox News:
[Image via screengrab]
——
>> Follow Evan McMurry (@evanmcmurry) on Twitter
Have a tip we should know? tips@mediaite.com