Fox's Judge Napolitano Praises Jon Stewart: 'Comic Genius,' Possibly 'Smartest' on TV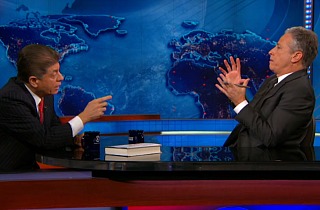 In the wake of Jon Stewart's announcement that he will leave The Daily Show by the end of 2015, some of Fox's biggest names have taken the opportunity to bash him and revel in his exit. Fox's senior judicial analyst Judge Andrew Napolitano went the exact opposite way, however, heaping praise upon the comedian.
Writing for Reason magazine, Napolitano (an outspoken libertarian and former host of FBN's Freedom Watch) lamented the departure of a "comic genius," fondly recalling his five big interviews with Stewart on Comedy Central.
"The on-air experience with Jon Stewart is unlike anything I do at Fox," the judge wrote. "First, when you are Jon's guest, you are his only guest. Second, as the only guest, you are on the show for about 15 minutes. In TV time, and by Fox standards, 15 minutes as an on-air guest is an eternity. Third, Jon spends the first 15 minutes of the show bashing you or your ideas or your employer—and he did this to me all five times I was on with him."
Despite that last point, Napolitano relished the opportunity to engage in a conversation with ideological opponents such as Stewart, especially because it presented a chance to show the comedian where libertarians and the left overlap:
I decided to push the envelope a bit. Before Jon could question me, I told him my purpose in coming on his show was to out him as a closet libertarian. "Go ahead, Your Honor. Give it a try. This is ridiculous." OK, here goes… "Is it any of the government's business whom you marry or what you put into your body or to whom you speak on the phone?" "Of course not." Good. "Should the U.S. be traveling the globe looking for monsters to slay?" "No; never." Excellent. "Can the feds constitutionally capture the content of your phone calls and emails without a search warrant from a judge based on evidence about you?" "No." Terrific.

I should have stopped there, but I was having too much fun with America's funniest comedian. "Are you a secret admirer of Rand Paul?" OK. I blew it.
Fans of The Daily Show may recall Napolitano and Stewart's heated battle over the necessity of the Civil War to end American slavery, which included some hefty mockery from correspondent Jessica Williams.
Even that moment was remembered fondly by the judge: "It was hilarious," he wrote.
And Napolitano also explained what he learned from an off-air friendship with Stewart:
We agreed more than we disagreed, and I learned what most of his fans do not know: Jon does not need to try to sound smart; he may be the smartest personality on television. He is as well read in the works of those with whom he disagrees as he is in the works of those who reinforce his own views.
"I was saddened when Jon announced his retirement last week," Napolitano noted. "Jon is a comic genius… Agree with him or not, he is intellectually honest, sharp as a tack, and so warm and engaging that you just don't want your time with him to end.
"I hope mine doesn't," he concluded.
Read the full column here.
[Full disclosure: Judge Napolitano and I were close colleagues at FBN and he officiated my wedding last year.]
— —
>> Follow Andrew Kirell (@AndrewKirell) on Twitter
Have a tip we should know? tips@mediaite.com