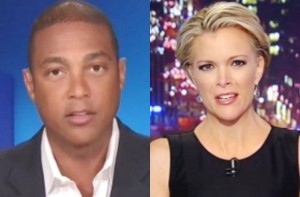 CNN's coverage of Prince's death led to a pretty remarkable ratings victory last Friday: four of its shows beat their direct Fox News competitors with viewers in the 25-54 demographic.
At 5 pm, Fox's The Five received 249K viewers in that demo, compared to 266K for The Situation Room. Wolf Blitzer's second hour beat Bret Baier in the demo with 263K to 257K viewers.
Erin Burnett took 260K viewers at 7 to Greta Van Susteren's 203K, but the true surprise came in the 9 pm hour.
Megyn Kelly and Don Lemon were both live last Friday and led with Prince's passing. Here's how narrow Lemon's ratings win was: with viewers 25-54, Lemon took 268K viewers. Kelly got 267K.
UPDATE –– 8:24 pm EST: We should add here another big win for CNN. Not only did Jake Tapper's 4 pm program beat Neil Cavuto in the demo––359K to 214K viewers––but overall this past Friday, The Lead was #1 in the demo.
Here are the rest of your Friday ratings:
TV NEWS RATINGS: 25-54 DEMOGRAPHIC (L +SD)
5 pm
The Five

249

Blitzer

266

Todd

94

6 pm
Baier

257

Blitzer

263

WADR

83

7 pm
Van Susteren

203

Burnett

260

Matthews

141

8 pm
O'Reilly

303

Cooper

261

Hayes

148

9 pm
Kelly

267

Lemon

268

Maddow

240

10 pm
Hannity

255

Lemon

253

Special

176

11 pm
O'Reilly

230

Bourdain

171

Hayes

122

PRIME TIME
275
261
189
Data by Nielsen Media Research. Live and same day (DVR) data.
TV NEWS RATINGS: TOTAL VIEWERS (L +SD)
5 pm
The Five

1.829

Blitzer

735

Todd

572

6 pm
Baier

1.834

Blitzer

686

WADR

494

7 pm
Van Susteren

1.468

Burnett

745

Matthews

725

8 pm
O'Reilly

2.560

Cooper

810

Hayes

712

9 pm
Kelly

1.892

Lemon

694

Maddow

1.031

10 pm
Hannity

1.283

Lemon

592

Special

741

11 pm
O'Reilly

945

Bourdain

448

Hayes

405

PRIME TIME
1.912
699
831
Data by Nielsen Media Research. Live and same day (DVR) data
Have a tip we should know? tips@mediaite.com