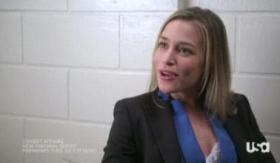 You know all those spy stories recently? Well they aren't a viral marketing campaign for the newest USA Network show Covert Affairs (although they could be).
Last week Mediaite went to a screening of the new show – and talked to the creators as well as President of NBC Universal Cable Bonnie Hammer.
The show, which premieres tonight at 10pmET (and yes, they're an advertiser), stars Piper Perabo as a new CIA agent – who happens to be on the hunt for a Russian spy in the action-packed, highly-produced extended first episode. "We're very lucky," Hammer told Mediaite. "We didn't plan that and we didn't plant those Russian spies."
"If we were really mercenary we'd cast one of them in the show," joked Executive Producer David Bartis.
Executive Producer Doug Liman compared the lead to a "female George Clooney," and compared the show to a previous project. "Because of her, we're operating on a whole other level," he told Mediaite. "We're operating on a level that I was operating on Mr. & Mrs. Smith." (Liman directed the blockbuster 2005 movie.)
The process for new programs at USA Network is different than other networks. Bartis noted this, like other projects NBCU cabler, was developed specifically to put on the air, and "when we shot our pilot there was no other pilot shooting." Obviously it's working – USA regularly finds itself at the top of the cable news ratings each week. White Collar, the show's lead-in, has been steadily growing in the ratings.
The show follows the same formula of several other successful shows on the network – a mix of drama, action and comedy. "We don't want to go dark, we don't want to go dysfunctional, we don't want to go brooding, and we're not going to go pure comedy," said Hammer. In the wake of more Emmy nominations for USA's stars, but not for the shows themselves, Hammer said: "We need a hybrid area where it's dramedy, and then I think we would win everything."
Liman said future episodes will feature action sequences at Niagara Falls, underwater and a "massive fight" on a speeding train involving a blind CIA agent character. Liman called it his "favorite action sequence I've ever read."
Here's the trailer:


—–
» Follow Steve Krakauer on Twitter
Have a tip we should know? tips@mediaite.com