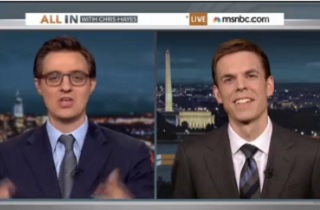 Earlier this week, the Obama administration threw its support behind legislation to raise the federal minimum wage to $10.10  per hour, and index it to inflation. Such activity unvariably brings shills out of the woodwork, and this time is no exception. In a particularly lively and crosstalk-laden segment Thursday night, All In host Chris Hayes confronted Michael Saltsman, research director of the Employment Policies Institute, a "think tank" run out of the offices of lobbyist Rick Berman which produces "research" in opposition to the minimum wage.
The segment was pegged to a Salon piece scolding the media for presenting EPI's findings as credible, independent research, but the real point here seems to have been to bat Saltsman around for awhile. The point about the media being taken in by this organization is solid, but so is Saltsman's point that if they disclose that they're funded by restaurants, who's really the asshole here? The media. The real purpose of the segment was to drive home that point to the rest of the media by asking Saltsman, repeatedly, how many economists EPI has on staff (the answer appears to be zero) and getting Saltsman to point out that he, himself, is not an economist. "I don't call myself an economist," Saltsman points out, which is, again, the whole point.
Raising the minimum wage, as Hayes points out, is incredibly popular, and eases the burden on taxpayers who fund the low-wage economy, while having no discernible effect on employment, even in neighboring localities. Saltsman's facts aren't about to change that, but enough repetitions of the phrase "I don't call myself an economist" might just result in fewer news organizations quoting his work with absolute credulity. In any case, this guy is wrong, and it's fun watching him get yelled at.
Here's the clip, from All In:
Have a tip we should know? tips@mediaite.com