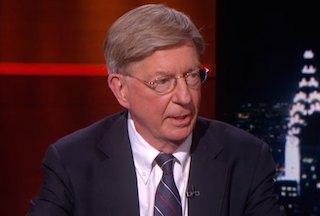 After taking some shots at Stephen Colbert in an interview with The Daily Caller Tuesday, George Will appeared as a guest on The Colbert Report last night and began by telling the host the difference between his old job as an ABC News contributor and his new one with Fox News.
"I love it," Will said of Fox. "Fox News is like getting on a Southwest Airlines plane. Everyone's happy, they're at the top of the heap and they feel like insurgents."
"Wow, that's great," Colbert replied. "That sounds almost dangerous."
The majority of the rest of the interview was spent discussing Will's new book about the 100th anniversary of Chicago's Wrigley Field, A Nice Little Place on the North Side
, though politics did seep into the conversation.
When Colbert said that believing "nothing should ever change" made him a conservative, Will shot back, "No, that makes you a liberal." He explained that liberals believe "whatever exists should continue," citing the 1935 version of Social Security as his prime example.
If you don't drive a car from 1935 or watch a television from 1935, then Will wondered why anyone should expect to still use policy from 1935. But that doesn't mean he thinks we should get rid of Social Security altogether.
"I think we should," Colbert said. "Am I more of a conservative than you are?"
"Yes," Will replied simply.
"OK, I was trying to lead you into a field where people would shoot you in the head," Colbert joked, before steering things back to baseball.
Watch video below, via Comedy Central:
[photo via screengrab]
— —
>> Follow Matt Wilstein (@TheMattWilstein) on Twitter
Have a tip we should know? tips@mediaite.com