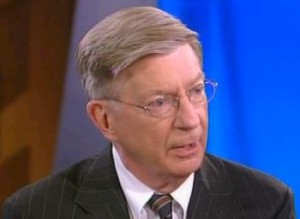 The death of Florida teenager Trayvon Martin continues to dominate national headlines. It has started many conversations on crime, race relations, and the Florida "stand your ground" law that shooter George Zimmerman may be relying on to defend himself. On ABC's This Week today, George Will criticized the concept of such a law, saying that it expects too much of private citizens.
RELATED: Piers Morgan Asks Newt Gingrich: 'Isn't This Stand Your Ground Law A Lot Of Old Nonsense?'
When asked about the tragedy by George Stephanopoulos, Will brought the conversation directly to the law.
"It tries to codify a right of self-defense that really confers upon citizens the illusion of these, that they have powers exercised by highly-trained police officers. Mr. Zimmerman says he was acting under this self-defense law, but he is said to have been recorded saying he pursued the person. You cannot be in pursuit and acting in self-defense."
However, Will did warn the media not to jump the gun too much, since during the infamous Duke Lacrosse scandal everyone was angrily going after the accused players, and they all turned out to be wrong. Donna Brazile agreed with Will that "stand your ground" is a bad law, saying that in her own experience doing neighborhood watch, "we don't carry guns, we try to protect the streets." She also acknowledged that the shooting of Martin opened some "wounds" in America's racial history.
Cokie Roberts argued that the big picture issue in this case was the fact that Zimmerman had a gun. Despite Stephanopoulos noting the gun was purchased legally, Roberts still argued that someone with his mental capacities should not have been allowed to own one. Terry Moran said that Florida's "stand your ground" law is something that no other state has, because it includes self-defense. And as a result, anyone in the state who claims self-defense in a murder cannot be arrested.
Moran said that police in Florida are not happy with the law, because of how much it has a negative impact on the state's criminal justice system. Matthew Dowd noticed an irony in how much "stand your ground" is supported by people and legislators who consider themselves Christians.
"We want to be a Christian nation, and we want to act in a Christian manner, but, oh, by the way, we don't believe in the turn your other check, we don't believe in love your enemy, we believe in loading… citizens and basically giving them an opportunity to shoot people."
RELATED: Shep Smith On Trayvon Martin Shooter: 'Man Who Shot And Killed A Teenage Boy Still Has His Weapon'
Watch the video below, courtesy of ABC:
Have a tip we should know? tips@mediaite.com
Josh Feldman - Senior Editor