Backfire! Gibbs' MTP Remarks Anger Dems, Sends GOP Into Fundraising Overdrive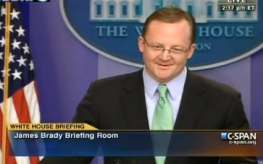 Sometimes honesty, even the strategic kind, is not necessarily the best policy. Press Secretary Robert Gibbs' assertion over the weekend that there are enough seats in play for the GOP to take the house this November may have been a brutally honest assessment of the national political stage, but it also appears to be backfiring on him.
On Sunday Gibbs told David Gregory that "I think there's no doubt that there are a lot of seats that will be up, a lot of contested seats. I think people are going to have a choice to make in the fall. But I think there's no doubt there are enough seats in play that could cause Republicans to gain control. There's no doubt about that."
For all Gibb's protests that he was "merely stating the obvious" (watch below) what it actually sounded like was a White House vainly attempting to have its cake and eat it too, in so far as they would like the midterms to be neither a vote of confidence in Obama, nor the responsibility of the White House to win. This has not gone over well with the Dems. According to Politico's Jonathan Allen Gibbs' "too-candid remarks" have only succeed in "exacerbating Democratic anxieties about the prospect of fighting a political war on two fronts, against Republicans and their own White House."
Meanwhile, the GOP has apparently seen their opening and has wasted no time is using Gibbs' words to their advantage. From Jonathan Martin:
Republicans are seizing on [this] to send an unambiguous message to Washington's lobbyist community: The train is leaving the station, and it's time to get on board…"Now you not only have confirmation from the polling data, but the top spokesperson for the administration saying that Democrats are in trouble," [Rep. Greg Walden] Walden said.
Gibbs responds to Major Garrett about his MTP appearance below.
Have a tip we should know? tips@mediaite.com