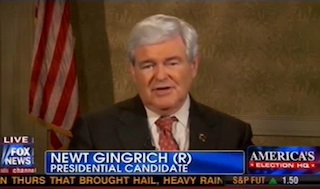 Appearing on Fox and Friends Friday morning, Republican hopeful Newt Gingrich struck back at President Obama remarks yesterday that "if some of these folks were around when Columbus set sail, they probably must have been founding members of the flat earth society. They would not believe that the world was round!"
Co-host Brian Kilmeade surmised that the President was stealing the former Speaker of the House's lines. "He's even using your phrases a little bit!" Kilmeade exclaimed.
RELATED: President Obama Slams Opponents As Members Of 'Flat Earth Society'
"Well, you know, imitation is a high form of flattery!" Gingrich snarked. "And I thought it was fascinating. It's the president who is refusing to recognize the modern world. In the modern world, the amount of oil we have in North Dakota — because of new drilling technology — has jumped from 150 million barrels to 24 billion barrels in the last decade. We have more oil in North Dakota than we ever dreamed possible and some people think with another generation of new technology, we'll have 500 billion barrels in North Dakota. It's the president who is sort of — he used the term 'flat earth society.' I'd say he belongs to the Sierra Club flat earth society. He can't believe anything new that would improve energy because it takes away his desire for government to control our lives.
"Mr. Speaker, you're for the new technologies," Steve Doocy observed. "It's at this point in time, they aren't to the stage where they could work effectively and if all it takes is punching some holes in the ground and getting the oil right there, let's use that for now until the other stuff works.
"Look, i'm for biological research — I'm for developing algae over time," Gingrich acknowledged. "But the current algae technologies, you'd have to have $850 a barrel oil to make them economically competitive and the president lives in this fantasy land! It's like Solyndra! He imagines these things up. It's like shovel ready jobs, remember? He finally admitted two years later there were no shovel ready jobs in his shovel ready jobs program. We're back to the same fantasy life! The American people deserve inexpensive oil and gas, if it's possible. They deserve it from American sources to keep the money in America to create American jobs. The president is doing just the opposite. He's asking the Saudis to bail us out which means he'll have to bow even deeper the next time he sees a Saudi king. I am deeply opposed to that kind of foreign policy."
Watch Gingrich hit back at Obama for his flat earth comments below via Fox News:
Have a tip we should know? tips@mediaite.com