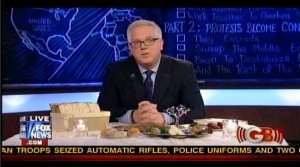 Today on his show, Glenn Beck sat down at a table set for a seder and talked about the story of Passover. At first, it seemed that this was just proof that Beck is the youngest member of his staff. However, instead of asking four questions, Beck segued into a discussion of President Obama's Passover message and how it was actually "a slap in the face" to Israel and all Jewish people. Presumably, he then spent the commercial break searching the studio for the afikomen.
So what in Obama's message got Beck's yarmulke in a bunch? Well, lets take a look at it.
From the JTA:
"President Obama in his Passover message 'prayed for peace' for Israel while calling for the alleviation of injustice against those 'not yet free' in the Middle East.

'The story of Passover, which recalls the passage of the children of Israel from bondage and repression to freedom and liberty, inspires hope that those enslaved can become free,' Obama said in his message sent out April 15.

'The seder, with its rich traditions and rituals, instructs each generation to remember its past while appreciating the beauty of freedom and the responsibility it entails. This year, that ancient instruction is reflected in the daily headlines as we see modern stories of social transformation and liberation and liberation unfolding in the Middle East and North Africa. Against the background of change, we continue to pray for peace between Israel and her neighbors while reaffirming our commitment to Israel's security.'"
Do you see what he did there? No? Well, lets let Beck explain:
"For an American president to bring up Muslim nations whose revolutions have brought out leaders announcing themselves as sworn enemies of Israel and the Jews at a seder, it really goes beyond insensitive. Beyond insensitive. It's a slap in the face. Especially when you know the history of this administration and what we have already done to Israel."
Well, way to go, President Obama. Or should I say "Pharaoh Obama?"
Side note: Wouldn't it be funny if Obama actually was running around slapping people? I mean, he's been accused of it enough. He should just do it.
Check out the clip from Fox News below:
Have a tip we should know? tips@mediaite.com