Glenn Beck Decries the Media After Storming Out of CNN Interview: 'So Blind'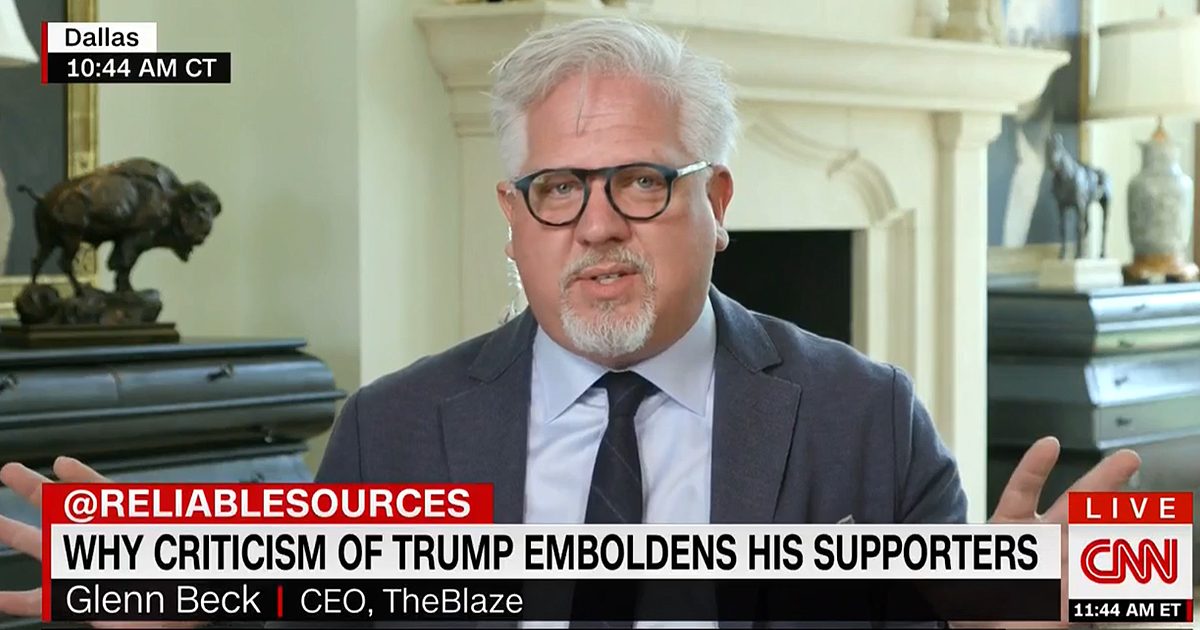 On CNN's Reliable Sources on Sunday, radio host and CEO of The Blaze Glenn Beck took off his mic and walked out of an interview after being asked about recent layoffs at his company by host Brian Stelter.
Not long after the show, Beck took to Twitter to explain what angered him, and how he would be addressing it.
He cited recent events in the controversy over immigration policy – that was the topic they were discussing in the interview prior to the question about layoffs – and said that any of the recent headlines criticizing the Trump administration could have been written about the Obama administration just as easily.
He then explained that he was fed up with the media, and CNN in particular.
1."border patrol agent injured by anti-obama mobs." "Obama's daughters threatens with Rape, kidnapping and murder by right wing 'star'";'gop activist arrested for threatening to rape and kill Dem congressman's children."
All headlines that would have been written…con't #Border

— Glenn Beck (@glennbeck) June 24, 2018
2. Had the exact same events that occurred this week happened under Obama. The media is so blind. I couldn't take anymore of it on #cnn and #ReliableSources. But I will lay the problem and solutions out for you on radio tomorrow. Other than solutions: "I don't care. Do U?"

— Glenn Beck (@glennbeck) June 24, 2018
Glenn Beck's radio show airs weekdays from 9 to noon, and on Monday's program he will apparently be addressing this overall topic.
[Featured image via screengrab]
—
Follow Caleb Howe (@CalebHowe) on Twitter
Have a tip we should know? tips@mediaite.com