Roseanne Gets Emotional in Interview About ABC Cancellation, Racist Valerie Jarrett Tweet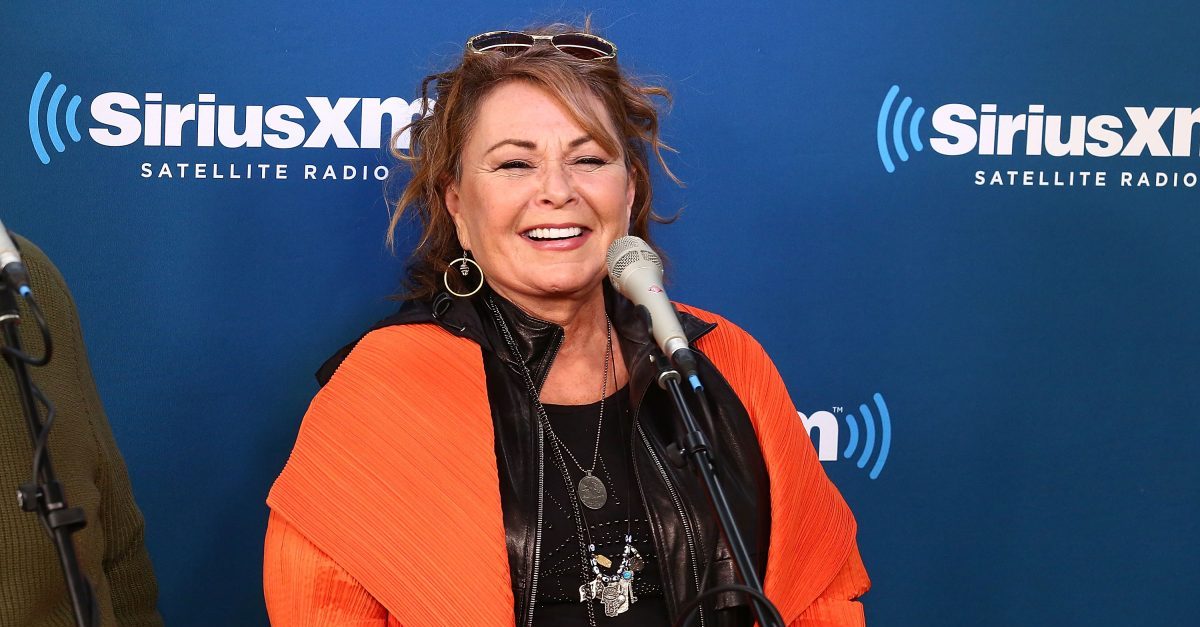 Following her dramatic ouster from her self-titled ABC sitcom, Roseanne Barr held an emotional interview with Rabbi Shmuley Boteach on her public downfall brought on by a racist tweet about Valerie Jarrett, a former adviser to President Barack Obama.
"It's really hard to say this but, I didn't mean what they think I meant," she said of her May tweet calling Jarrett the lovechild of the Muslim Brotherhood and Planet of the Apes. "And that's what's so painful. But I have to face that it hurt people. When you hurt people even unwillingly there's no excuse."
Boteach, who serves as her spiritual adviser, interviewed the actress just one day after she was fired, making the audio public on Soundcloud Sunday. It is also transcribed in a Facebook post.
During the more-than-30-minute clip, Barr offered an apology "to anyone who thought, or felt offended and who thought that I meant something that I, in fact, did not mean."
"It was my own ignorance, and there's no excuse for that ignorance," she added. "But I didn't mean it the way they're saying I meant it. And that's really weird too because if I don't speak for myself, who will speak for me."
The former Roseanne star then became distraught, explaining she has diversity within her own family and that she wouldn't have and didn't call any black person a monkey, in spite of her tweet having implied just that of Jarrett.
"I have black children in my family. I can't, I can't let 'em say these things about that, after thirty years of my putting my family and my health and my livelihood at risk to stand up for people. I'm a lot of things, a loud mouth and all that stuff. But I'm not stupid, for God's sake. I never would have wittingly called any black person, [I would never had said] they are a monkey. I just wouldn't do that. I didn't do that."
Barr then claimed she hadn't been aware at the time of her Twitter debacle that Jarrett was black.
"When ABC called me and said, 'What is the reason for your egregious racism?,' I said, 'Oh my God, it is a form of racism.' I guess I didn't know she was black, and I'll cop to it, but I thought she was white."
Although she apologized for her attack on Jarrett, Barr attempted to explain why she wrote it, contending she isn't racist.
"I horribly regret it," she said. "Are you kidding? I lost everything, and I regretted it before I lost everything. And I said to God, 'I am willing to accept whatever consequences this brings because I know I've done wrong. I'm going to accept what the consequences are,' and I do, and I have. But they don't ever stop. They don't accept my apology, or explanation. And I've made myself a hate magnet. And as a Jew, it's just horrible. It's horrible."
At the end of her conversation with Boteach, Barr said she wanted Jarrett's phone number so that she could call and apologize.
Listen to the full interview here, via the Rabbi Shumley Podcast:
[Image via Getty Images]
Follow Amy Russo on Twitter: @amymrusso
Have a tip we should know? tips@mediaite.com