Glenn Greenwald Justifies Snowden's Fear He Will Be Killed: U.S. 'Targeted' Americans In The Past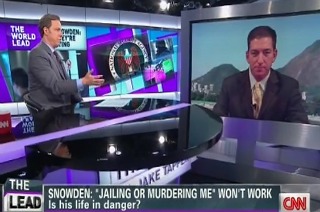 During a live chat on The Guardian's website on Monday, NSA leaker Edward Snowden reassured readers that the secrets he has been steadily providing to that paper regarding America's intelligence gathering practices would not end even if he was murdered. Appearing on CNN's The Lead with Jake Tapper, The Guardian reporter Glenn Greenwald clarified those comments and said that Snowden fears for his life because the U.S. has previously executed strikes on Americans abroad, like that which killed American-born Al Qaeda operative Anwar al-Awlaki. Greenwald noted that he has seen no indication that the American government would execute a similar operation to neutralize Snowden.

"All I can say right now is the US Government is not going to be able to cover this up by jailing or murdering me," Snowden said on Monday.
"To a lot of people, that murder suggestion seems like a rather outrageous charge," Tapper began. "Is there any evidence that Snowden's life is in any danger?"
Greenwald said that some journalists' accounts of the Snowden leaks scandal, the impression many get is that America would turn to extraordinary methods to eliminate the threat posed by Snowden if he decided to turn over to a foreign government the information at his disposal.
RELATED: Edward Snowden In Live Chat: 'Truth Is Coming,' 'Jailing Or Murdering Me' Won't Stop Revelations
"The U.S. officials are saying that, if he were to do that, it would be one of the gravest and most cataclysmic injuries to U.S. national security ever," Greenwald said. "And so, he's concerned that the only way they might think to stop him is to physically stop him."
"I don't know of any evidence that they intend to do so," Greenwald added. "They've certainly targeted U.S. citizens in the past who they perceive to be a threat to national security."
Tapper asked Greenwald to clarify if he was referring to al-Awlaki, the spiritual Al Qaeda leader born in New Mexico and killed in a drone strike in Yemen in 2011. Greenwald said he was and insisted that he was not suggesting that the American government would approve of such a method to silence Snowden.
"I'm just saying that, from his perspective, one can understand why that concern is in his head," Greenwald concluded.
Watch the clip below via CNN:
> >Follow Noah Rothman (@NoahCRothman) on Twitter
Have a tip we should know? [email protected]