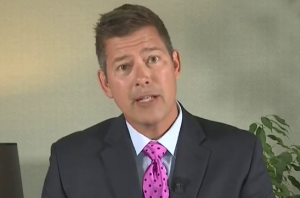 Republican Wisconsin Congressman and Donald Trump supporter Sean Duffy dodged several questions Thursday morning about whether he thought Barack Obama was "in league with ISIS."
NBC's Willie Geist asked Duffy about Trump's controversial remarks from the night before. "Do you agree, Congressman, that the President of the United States is the founder of ISIS?" he asked on MSNBC's Morning Joe.
"What I do agree with is that when ISIS was in its infancy, Barack Obama called it a JV team. He did nothing to defeat it, to eradicate it," Duffy said.
"But do you Is the president in league with ISIS?" Geist asked bluntly.
Duffy wouldn't directly answer that question either. "When we are in rallies, you know, things get a little animated. But the point he is making is, Obama let them grow, Obama-Clinton foreign policy allowed this movement to take root and kill a lot of people," he said.
Geist tried again: "We all know that, and we agree with that. But do you believe President Obama is in league with ISIS?"
"Let me ask you this," Duffy retorted, "Do you believe Barack Obama could have crushed them with our military three years ago?"
"There's policy argument against President Obama but Donald Trump said he is the founder of ISIS, do you agree with that, congressman?" asked an increasingly frustrated Geist. "Yes or no?"
"Founding? Probably no," Duffy said finally. "Did he found it? Is he one of the guys on the ground, no. But did he allow policies that let it become what they are today? Absolutely."
Watch above, via MSNBC.
[Image via screengrab]
——
>>Follow Alex Griswold (@HashtagGriswold) on Twitter
Have a tip we should know? tips@mediaite.com