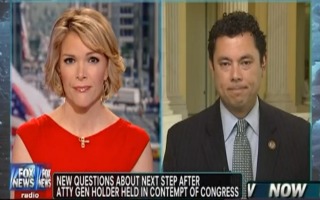 Republican Rep. Jason Chaffetz (R-UT) appeared on Fox News Channel's America Live with Megyn Kelly on Friday where he discussed the ongoing House Republican efforts to investigate Attorney General Eric Holder's involvement into the Fast and Furious gun walking scandal. There he revealed that the House GOP could move to have Holder arrested following a House vote on Thursday that found him in contempt of Congress.

RELATED: Atty Gen. Eric Holder Held In Contempt Of Congress, Democrats Walk Out Of Vote
Chaffetz began the interview noting that he had received information that suggests a Washington D.C. attorney has been instructed to not pursue the charges of contempt against Holder that the House of Representatives approved on Thursday.
"The statute does say that you shall do this," said Chaffetz. "The precedent is that it hasn't been one in the past. Again, we've got to get past this so-called precedent and do what the law says."
Kelly says that she is aware of another option – that the Sargent at Arms of the House can be instructed to arrest Holder. "Are you going to do that," asked Kelly.
"That would be fairly dramatic, but yes," said Chaffetz. "Three options: going through the U.S. attorney, going into civil court or have the Sargent at Arms take control of the situation — which I think some people are going to say we ought to do — but we're going to exhaust the other ones first."
"Really," replied Kelly.
"I find it hard and dramatic to do, but we want to get to the bottom of this," said Chaffetz. "We're serious about this."
Watch this exchange below via Fox News Channel:
> >Follow Noah Rothman (@Noah_C_Rothman) on Twitter
Have a tip we should know? tips@mediaite.com