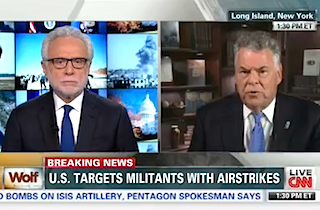 President Barack Obama's announcement that he has approved military airstrikes on ISIS in Iraq was not enough to satisfy Rep. Peter King (R-NY), who appeared on CNN with Wolf Blitzer Friday to criticize what he referred to as the president's "mixed messages" on the issue. But pressed to say whether he would support U.S. combat troops in Iraq, King would not give a yes or no answer.
"ISIS is more of a threat to the United States now than Al Qaeda was prior to September 11th," King told Blitzer, citing the Iraqi group's enormous war chest. "I support the airstrikes. That is important," King conceded. "But having said that, why he says the U.S. is not going to provide more military help until there's a more diverse government in Iraq? If isis is a threat to the U.S., and it is, then we shouldn't let our security depend on the whims of the Iraqi parliament."
King also went after the president for assuring the American people that he would not be sending U.S. combat forces into Iraq, essentially restarting the war in that country. "I can't understand why a commander in chief would ever tell the enemy what we're going to do or not do," he said.
RELATED: Surprise! Bill Kristol Thinks Obama Should 'Get in Big' in Iraq
Asked by Blitzer directly if he would be ready to authorize troops on the ground in Iraq, King skirted the question, putting the focus back on Obama, who he said should not "take any option away." On top of that, King argued, "if you're dropping bombs, you're in combat."
Towards the end of the interview, Blitzer asked King once again if he thinks his constituents would support a ground war in Iraq.
"I'm not the commander in chief, he is," King said. "But he should not be taking anything off the table. And by doing what he's done, over and over again, saying he's not going to do this, he's not going to do that and we're not going to get dragged into a war, he's sending a false signal, he's encouraging the enemy, he's dispiriting our allies and he's just putting off the inevitable."
Watch video below, via CNN:
[Photo via screengrab]
— —
>> Follow Matt Wilstein (@TheMattWilstein) on Twitter
Have a tip we should know? tips@mediaite.com